N.H. exports continue to show strength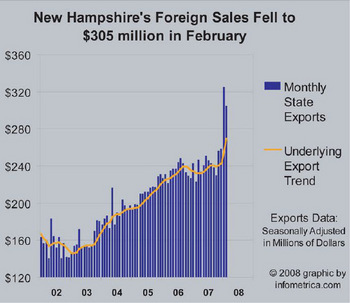 In 2003, America lost its position as the world's leading exporter when Germany's exports of goods exceeded those of the United States. According to the latest annual trade statistics compiled by the World Trade Organization, Germany remained the world's leading exporter of goods in 2007, selling abroad $1.327 trillion of goods.
Since 2001 – when it joined the WTO – China's exports increased by an annual rate of 25 percent, more than twice the world's average export growth of 12 percent. Last year, Chinese exports surged 26 percent, hitting a record $1.218 trillion, outstripping for the first time U.S. exports, as the WTO ranked China as the second-largest merchandise exporter in 2007.
Nevertheless, U.S. exporting companies had one of their best years in 2007, with exports rising 12 percent to an all-time high of $1.163 trillion. And in the first two months of 2008, national exports jumped 18.8 percent from the same period in 2007, thus hitting an all-time monthly high of $107.3 billion in February.
In New Hampshire, during the January-February period, exports of goods from the state increased by an annual rate of 35.3 percent from the same period of 2007. As a result, New Hampshire ranked 12th in export growth among the 50 states during the first two months of this year.
Exports from New Hampshire firms pulled back 6.3 percent in February from an all-time high in January, when they surged by an astonishing monthly rate of 25.7 percent. At their February mark, foreign sales registered $304.5 million, seasonally adjusted — the second-highest level on record.
Manufactured goods accounted for 85 percent of all New Hampshire exports. Despite a decrease of 8.8 percent in February, foreign shipments by New Hampshire's manufacturers hit $259.5 million, adjusted for seasonal variation, which is the second-highest mark on record.
On an annual basis, overseas shipments were $67.7 million, or 36.6 percent, higher than in February of last year.
Exports of non-manufactured goods rose 11.7 percent in February to $45 million.
As for the rest of the year, the WTO predicts that economic growth in the advanced industrial countries will slow to 1.1 percent in 2008. For developing countries in Asia, Africa and South America, the WTO forecasts economic growth at slightly above 5 percent. Together, these could result in world output growth of 2.6 percent in 2008 from 3.4 percent in 2007, the organization says.
Evangelos Simos, chief economist of the consulting and research firm Infometrica Inc., is international affairs editor of the Journal of Business Forecasting and professor at the University of New Hampshire. Distributed by Infometrica Inc. Dr. Simos may be reached at eosimos@infometrica.com.