N.H. exports continue to gain ground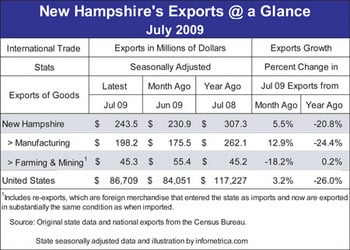 Following a year of falling sales abroad, New Hampshire's exporters can now see the first signs of recovery.
With an economic revival abroad, buyers have more income to spend for goods in general and goods made-in-New Hampshire in particular. This is the so-called "income-effect" that drives foreign demand for state exports. In addition, a weaker currency boosts future sales abroad as foreign consumers are able to buy more goods made-in-New Hampshire with their own highly-valued currency. This is the so called "price effect" on foreign demand for goods made-in-New Hampshire.
Since the beginning of this year, the value of the dollar has dropped against a variety of major currencies by nearly 10 percent, thus making American goods 10 percent more attractive to foreign consumers.
In the latest trade numbers, $243.5 million in goods left New Hampshire for international markets in July — 5.4 percent more than in June. But exports remain off last year's pace, falling by $63.8 million, or 20.8 percent, from July 2008.
Some 81 percent of all New Hampshire exports were manufactured goods. In July, shipments abroad from New Hampshire's factories increased 12.9 percent to a seasonally adjusted volume of $198.2 million from June, but 24.4 percent lower than in July 2008.
Exports of non-manufactured goods fell 18.2 percent in July to $45.3 million.
Nationally, exports rose 3.2 percent in July to $86.7 billion. Through the first seven months of 2009, national exports of goods declined by an annual rate of 23.6 percent in comparison with the first seven months of 2008.
New Hampshire ranked 22nd among the 50 states through the first seven months of 2008 in export growth.
How do experts from around the world see the prospects for international trade in the rest of 2009 and early in 2010?
According to the latest findings of the World Economic Survey, conducted by the Ifo Institute of Economic Research at the University of Munich and the Paris-based International Chamber of Commerce, the global economic climate strongly improved in the third quarter of 2009.
About 1,050 executives from 92 countries appraised the current worldwide economic conditions to be still unsatisfactory but better than a year ago. Looking forward at the next six months, the executives said they expect the global economy to dramatically improve from the current levels reaching above satisfactory economic conditions.
The business experts anticipate the global volume of imports to increase substantially in the next two quarters. A surge in imports is expected from the Asian and Pacific Rim countries and the members of the euro area.
In the next two quarters, orders from abroad are expected to climb, which would boost production and generate new export-related jobs in the Granite State.
Evangelos Simos, chief economist of the consulting and research firm Infometrica Inc., is international affairs editor for the Journal of Business Forecasting and professor at the Whittemore School of Business & Economics, University of New Hampshire. He may be reached at eosimos@infometrica.com.