N.H. exporters feel aftershock from Japan quake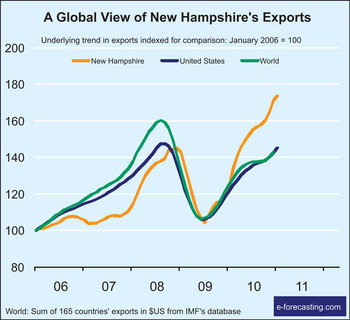 On the heels of closing a year in which New Hampshire exports hit an all-time high, 2011 dawned with a big plunge in overseas shipments by New Hampshire companies. And the picture may not brighten, at least for the foreseeable future, thanks to rising oil prices and ramifications from the earthquake and tsunami in Japan.
In January, exports from the Granite State fell by $94.5 million to a monthly total of $352.8 million in January. A month earlier, exports were 21.1 percent higher, totaling $447.3 million – a jump of nearly $45 million from November. For the country as a whole, exports of goods, adjusted for seasonal variation, rose 3.4 percent in January to $120.5 billion.Exports of manufactured goods, which accounted for 70 percent of all New Hampshire state exports in January, fell by 28.6 percent from the previous month, to $245.9 million. Exports of non-manufactured goods rose 3.7 percent to $106.9 million.Thus far, 2011 has featured two global economic shocks that have generated uncertainty on the future course of global trade during the year. First, oil prices topped $100 per barrel, compared with an average price of $80 in 2010, mostly due to political turmoil in the Middle East.The second shock has been the Japanese earthquake and its consequences, with fears about the effects of the ongoing efforts to get the crippled Fukushima Daiichi nuclear power plants under control. The expected drop in economic activity in Japan – the third largest economy in the world – is estimated to have unfavorable spillover effects on other trading partner countries, particularly, in the automotive and semiconductor industries.In January – the latest monthly trade numbers available – exports to Japanese buyers from New Hampshire companies totaled $9 million. In 2010, New Hampshire exports to Japan totaled $116 million.Exports of goods and consequently export-related jobs depend on the economic health of the buying countries. In other words, overall sales of and jobs in New Hampshire's companies are "exposed" to the ups and downs of the global economy.How important is the Japanese market for the state economy? In 2010, New Hampshire's exports to Japan accounted for 2.7 percent of total exports. As a result, New Hampshire ranked 44th in export exposure to the expected fallout from the Japanese shock among the 50 states.Nationally, U.S. exports of goods to Japan accounted for 4.5 percent of all exports in 2010.Forecasters have begun to provide some estimates of the effects of the Japanese catastrophe. Economic growth there is expected to either stall or decline in 2011 by as much as 1.1 percent, compared to a healthy recovery of 3.9 percent in 2010.The increased dependence of New Hampshire's economy on global markets coupled with the twin economic shocks that recently hit the global economy are expected to contribute less to the state's overall economic development in 2011 than previously estimated.
Evangelos Simos, chief economist of the consulting and research firm e-forecasting.com, is editor for international affairs for the Journal of Business Forecasting and professor of economics at the University of New Hampshire. He may be reached at eosimos@e-forecasting.com.