N.H. export surge driven by strong demand in Asia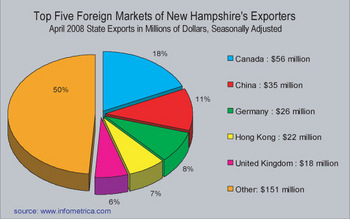 Exports of goods made in the Granite State surged 5 percent in April to their second-highest monthly level on record as New Hampshire's exporters sold $308.9 million in goods, adjusted for seasonal variation.
The total was $76.9 million, or 33.1 percent, higher than April 2007.
Foreign shipments from New Hampshire's manufacturers led April's exports, accounting for 89 percent of all sales abroad. In April, exports of manufactures increased 13.8 percent from March to $273.4 million, seasonally adjusted.
Buyers from five countries made up half of the overall foreign demand for New Hampshire goods.
New Hampshire's largest export partner in April was Canada, where consumers and businesses bought $56 million, or 18 percent of all state exports.
China – which only a few years ago was an unimportant export market for New Hampshire's companies – was the second-largest trading partner in April 2008. Chinese companies bought $35 million in goods, an astonishing 61 percent increase from the same month in 2007.
Germany was the third-biggest buyer of state exports in April, with purchases of $26 million, accounting for 8 percent of all foreign sales.
Exports to Hong Kong, the state's fourth most important trading partner, rose to $22 million, or 160 percent, in April of 2008, as compared to April of last year.
British consumers and businesses spent $18 million on New Hampshire goods in April, thus making the United Kingdom the fifth-biggest trading partner of state exporting companies.
Nationally, exports rose 4.3 percent in April to an all-time high of $109.6 billion, seasonally adjusted. U.S. exports of goods have hit record-high levels in 17 of the last 20 months.
Exports from New Hampshire's companies increased by an annual rate of 30 percent through April 2008, compared with an 18.2 percent average growth for all 50 states. As a result, New Hampshire ranked 14th among the states through the first four months of 2008 in export growth.
However, the latest forward-looking global indicators point to a weakening outlook for state exporters.
According to the latest findings of the World Economic Survey, conducted in the second quarter of 2008 by the Ifo Institute of Economic Research at the University of Munich in cooperation with the Paris-based International Chamber of Commerce and the European Commission, the global economic climate waned again. The latest reading of the WES overall indicator that captures worldwide economic conditions has fallen to its lowest level in six years.
About 1,000 executives from 92 countries participating in the international survey appraised the current worldwide economic conditions to be worse than a year ago. Looking at the rest of 2008, the executives expect the global economy to continue weakening and thus economic conditions will be below current levels.
However, the business experts anticipate the global volume of trade to increase in the second half of 2008, compared to current trade activity. A surge in imports – which translates to exports for other countries – is expected from the OPEC region in the Middle East, and Asia-Pacific Rim countries.
Evangelos Simos, chief economist of the consulting and research firm Infometrica Inc., is international affairs editor of the Journal of Business Forecasting and professor at the University of New Hampshire. Distributed by Infometrica Inc. Dr. Simos may be reached at eosimos@infometrica.com.