N.H. export numbers continue to mend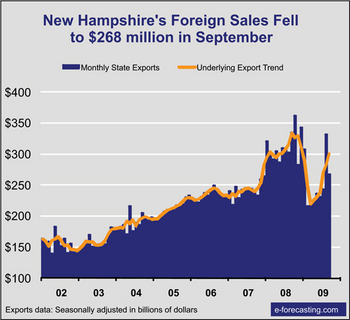 The latest monthly and quarterly economic indicators from around the globe confirm that the world economy has begun to recover from the recent recession. As a result, we begin to see signs that foreign demand for goods made in New Hampshire are on the mend.According to the latest export numbers, shipments abroad from New Hampshire exporters pulled back to $267.9 million in September – $64.5 million, or 19.4 percent, less than in August, when exports jumped by an unsustainable monthly growth rate of 36.5 percent. Thus, state exports continued to stay on an upward recovery trend which began at the beginning of the year.
On a year-to-year basis, New Hampshire exporters sold $66.9 million, or 20 percent, less goods than in September 2008.
September's state exports for the most part were driven by manufactured goods, which accounted for 80 percent of all state exports. Foreign sales from New Hampshire's manufacturers decreased in September by 22 percent from the previous month, to $214 million. On an annual basis, shipments abroad were $88.6 million, or 20 percent, lower than in September of 2008.
Exports of non-manufactured goods fell 7.4 percent in September to $53.9 million.
For the U.S. as a whole, in the first nine months of 2009 exports have fallen by 23 percent compared to the first nine months of last year.
New Hampshire ranked 15th in export growth among the 50 states during the first nine months of 2009 as foreign sales decreased by an annual rate of 17.5 percent over the period.
Rebounding worldwide economic growth is an important driver of demand for goods made in New Hampshire. When economic growth deepens, consumers' incomes abroad increase and, consequently, exporting companies not only see bigger orders from existing foreign clients but they are able to reach out to new buyers as the standard of living builds up around the globe.
The International Monetary Fund projects global growth to stay on a recovery path that slowly began in the second half of 2009. Global economic activity is forecast to expand by an annual growth rate of 2.2 percent in 2010 and 3.4 percent in 2011, following a decline at an average annual rate 2.3 percent in 2009.
In the key export markets of the advanced economies, economic growth is forecast to be moderate, with overall economic activity increasing by 1.7 percent. However, the IMF forecasts growth in the fast-growing emerging economies, like China and India, and the developing countries to average 5.5 percent in 2010.
Thus, the non-industrial countries will be the major source of global economic growth and, consequently, global demand in 2010.
The IMF predicts the volume of international trade will recover next year. Its World Economic Outlook forecasts worldwide trade to fall 12.7 percent in 2009, but the volume of exports is forecast to head back up 2.8 percent in 2010.
Evangelos Simos, chief economist of the consulting and research firm Infometrica Inc., is international affairs editor for the Journal of Business Forecasting and professor at the Whittemore School of Business & Economics, University of New Hampshire. He may be reached at eosimos@infometrica.com.