Mushrooms sprouting like crazy in the wild this year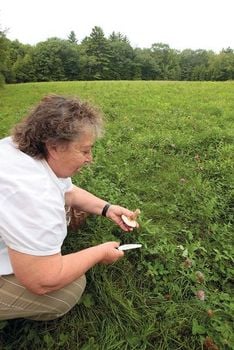 MONT VERNON – When there's lots of rain, you get a lot of mushrooms, and this summer has been very wet.
"Mushrooms are such a pleasure," Marina Khazanov said, "but we have to pay for it."
Khazanov collects, cooks and preserves wild mushrooms as a hobby, but in her Russian homeland, they are a staple food.
"We use them instead of meat," she said. "Mushrooms are a good meal. People prepare barrels of them for the winter."She learned her varieties "growing up, going out with family and friends."
Gathering wild mushrooms doesn't seem to have caught on in this country, she added.
"You have to begin when you're a child, five or six," she said. "(In Russia) it's part of the culture."
Khazanov, and her husband, Boris, both in their 70s, have been in the United States for about 35 years, she said. She is a college-level teacher of Russian literature in the Boston area. Because her friends in Boston find her home so remote, they've given it a Russian name that means "beyond the cows," a term rather like "out in the boonies." Because of that, the home is filled with cow figures all kinds: cow-like cups, vases, pictures, even a toilet paper holder.
The sign in front of the house also notes that the property is known locally by the family name McQuestion.
But gathering wild mushrooms is looked on with suspicion, Boris Khazanov said, "When I started talking about mushrooms, people looked at me very strange."
He was told a number of stories about people dying from eating mushrooms. He recalled one a visit to a Massachusetts campground where there were a lot of mushrooms, so he started picking.
"I thought fried mushrooms would be a great treat," he said. "They asked me if I had medical insurance."
He found such reactions great fun.
One problem Marina Khazanov has encountered is nomenclature.
Here, most mushrooms are identified by their Latin names, whereas in "Russia, it is more conversational." For instance, she noted, a mushroom called "birch bullet" is known in Europe by a name meaning "under the birch tree," where it is typically found.
She dries some of her finds, she said, and freezes others for winter use.
She led several interested visitors on a ramble through a hayfield and along the edge of a wooded area, pointing out what they found – the good, the not-so-good and the poisonous. She stressed that knowing for sure what you are picking is very important.
What you find depends on the time of year, she said. "The general rule is, if the bottom (under the cap) is a foam, in all probability, it is a good mushroom. Good mushrooms usually have fairly substantial stumps."
She noted some bad ones with pronounced "gills" under the cap.
She was asked about some quite lovely bright yellow ones. "Very bad," she said. An interestingly shaped golden-brown specimen with a wavy or ruffled top, was also to be avoided. "Look for the round shape," she said. "You want them to be smooth."
Others, while not poisonous, "just aren't very good tasting," she said.
There are few differences between some of the good and bad sorts, making education important.
While Marina Khazanov led her guests on the walk, Boris Khazanov prepared a lunch using wild mushrooms. He chopped the mushrooms and fried them in olive oil with slivered onions. He added salt, pepper and sour cream to produce a dish one visitor said was "like stroganoff without the meat."
The fried mushrooms were served with black bread and a tiny glass of vodka to which Boris Khazanov had added ginger.
Vodka, he noted with a wide smile, is also "a Russian staple."
Mushrooms you buy in the store, Boris Khazanov said, "are alright, but they don't have the flavor."
New Hampshire is blessed with mushrooms, Marina Khazanov said. Her husband added, laughing, that he is against immigration from Eastern Europe because "then we would have competition for the mushrooms."