More than 200,000 still without power as crews work around the clock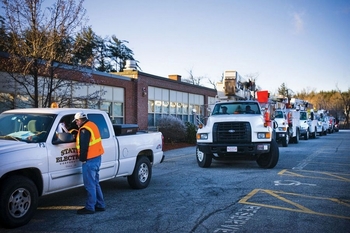 It has been a cold and frustrating couple of days for hundreds of thousands of people across New Hampshire and New England. Unfortunately, the situation may not change for several more days.
More than 208,000 PSNH customers were without power as of Saturday evening, according to PSNH spokesman Matthew Chagnon. He advised residents to plan on "multiple days" before power is restored.
"The cleanup is moving along as expected," Chagnon said. "We're working 24 hours a day at this point to get this taken care of. This is an unprecedented event. It's the largest in PSNH history.
"The southern part of New Hampshire is the hardest hit, definitely."
In Nashua, it's evident that no matter the situation, someone will see opportunity. Nashua police Sgt. Mike Ledoux said police have responded to a handful of complaints about people selling generators, sometimes at exorbitant prices, from the back of their vehicles.
Ledoux said he heard one report of someone asking for $2,800 for a $900 generator.
Police have responded to about three such calls and told the people to move along, since they would need a hawker and peddler permit to make such sales. Other than that, storm-related calls had all but stopped rolling in to the police dispatch center, Ledoux said.
Selling a generator wasn't on Milford resident Michele Burns' mind. She was one of about 50 lucky people to hear about a shipment arriving at PepBoys on Amherst Street in Nashua.
She stood in line from 1 p.m. until around 6 p.m. when the generators arrived from Manchester. She didn't know how much it cost and, honestly, didn't much care.
"I'm psyched," Burns said. "Now we just have to set it up."
Things hadn't changed much from Friday in Hudson. Calls to the fire department were still coming in hot and heavy, according to fire Capt. Todd Hansen, although he had expected things to calm down more by Saturday.
"We're actually right out straight still," he said.
In addition to typical fire calls, dozens of residents are still reporting downed wires and trees and water problems. The department has also responded to several carbon monoxide poisonings and small fires from wood stoves, Hansen said.
"We understand (people) need to keep their houses warm . . . but they have to do it in a careful manner," he said. "They certainly need to be careful using any kind of space heater or things of that nature."
PSNH has 190 crews on the ground, Chagnon said, and expected to have more than 100 more working by today as crews arrive from the other five New England states plus Maryland, Ohio and Quebec, Canada.
Chagnon said the power outage is the largest in PSNH's 102-year history. It's more than three times the size of the previous record, 93,000 in 1996.
At its peak, the storm had caused more than 320,000 outages, Chagnon said. It took the company more than a week to restore power to the 58,000 customers who were in the dark following an ice storm in 1998.
The delay is because restoring power is a more complicated operation than many people may realize, Chagnon said. PSNH is working with towns and the state to get access to downed lines. It also has to work first to restore power to priority customers, such as hospitals, municipal water systems, and fire and police departments.
That's not to mention that crews don't know what they need to do until they arrive at a new site.
"You don't really know what's wrong, necessarily, until you get there," Chagnon said. "Finding one problem sort of sheds some light on some other problems.
"That's why it takes longer than some people understand."