More states considering system to initiate search for certain people who disappeared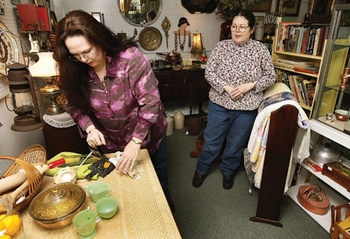 CONCORD – In the last three years, senior alert laws in 13 states have offered protection to hundreds of thousands with Alz-heimer's disease or dementia who may wander off and have no way of knowing how to get back home.
They owe that security to a senior citizen in Denver whose meanderings caught the attention of state Senate President Peter Groff. The man was a member of Groff's parish, and he has never been publicly identified.
"You would probably consider this gentleman to be pre-Alzheimer's because he usually knew where he was going but sometimes he would get confused," Groff said. "This time, he was driving west and said he was going back to Oklahoma where he came from. As you know, Oklahoma is southeast from Colorado."
A Silver Lining – In pursuit of Terry's Law
Observant Denver Police officers detained and then brought the man to his relieved wife.
"If a couple of State Patrol officers hadn't noticed his behavior, started to ask questions and concluded he needed help, then who knows what would have happened?" Groff said.
Members of the parish spoke to Groff about creating a media broadcast that put the public on the lookout for a mentally impaired senior who had walked or driven away from familiar surroundings.
The Colorado Legislature responded in 2006 to create the Senior Citizen Alert program. Since then, 12 other states have adopted their own laws.
This year, lawmakers in six more states, including New Hampshire, are considering creating alerts.
In February, a federal alert bill cleared the U.S. House of Representatives and awaits action in the Senate. It's the second straight year Congress endorsed this proposal of Rep. Lloyd Doggett, D-Texas.
States to follow Colorado have been Delaware, Florida, Georgia, Kentucky, Louisiana, Missouri, North Carolina, Ohio, Oklahoma, Rhode Island, Texas and Virginia.
"I thought this might be something other states would consider," Groff said. "We are living longer and there are more who remain in good physical health but have some mental-health issues."
The concept is patterned after the Amber Alert, a nationwide broadcast and highway sign posting that the National Center for Missing Children championed to become federal law in 2003.
In New Hampshire, Mary Stipe, of Merrimack, and Ann Conceison, of Amherst, started pursuing an alert. Their mother's 10-year struggle with Alzheimer's inspired them.
Teresa Canty Cahill never wandered away, although her daughters lived in fear that she would.
"We thought something like an alert really was an original idea," Stipe said. "Imagine our surprise when we researched it and realized all kinds of states had already done this or were looking to do so."
Two weeks ago, Connecticut Attorney General Richard Blumental told lawmakers in his state that 60 percent of the 70,000 who suffer from Alzheimer's or dementia wander off from their homes.
"A missing senior, no less than a missing child, can be our worst nightmare," Blumenthal said. "A Silver Alert, like an Amber Alert, can rescue and reunite a loved one. We owe our seniors the gold standard in Silver Alert.
"Very simply, a Silver Alert saves lives. Senior citizens with Alzheimer's disease or forms of dementia – mothers, fathers, grandparents and other loved ones – may wander from home and endanger their health and safety."
Some tragic turns have moved lawmakers and governors to create these programs in other states.
On Feb. 26, 2007, Mary Zelter, 86, signed out of her Key Largo, Fla., home for seniors and got in her car to go food shopping. She had already shown signs of early dementia.
A week later, police found her body off Clearwater Beach. Her car had been driven down a road that ended on a boat ramp.
Zelter's daughter, Mary Lallucci, lobbied Florida lawmakers and ultimately helped convince Gov. Charles Crisp to sign an executive order creating a Silver Alert program.
"I don't know if it would have saved my mother. I do know it would have helped," Lallucci said the day Crisp created Florida's program.
"What I discovered was that – as much as the police wanted to be cooperative – without a Silver Alert program, there's really no structure in place for a missing elderly person. And that's when I started speaking about why Florida, of all states, did not have a Silver Alert."
From October through December last year, 27 seniors with mental impairments disappeared in Florida and all were found, six specifically thanks to the alert.
In all of 2008, there were only 10 Amber Alerts for missing children in Florida.
Not all states have had the same experience, in part because there are varying ways to define who would be covered.
In North Carolina, state officials use it to try to find people of any age who have some cognitive impairment and disappear. The North Carolina Center for Missing Persons runs the program, along with the state's Department of Crime Control and Public Safety.
However, it appears it may be trying to accomplish too much.
"We have found that we may have extended the program too far and it's taxing our resources," said Nona Everette, one of the state's two analysts who staff the program.
In the first 18 months, North Carolina has had 151 alerts, which translates to one about every four days.
"Like most states, when the Legislature created this new program, it did not allocate any additional money to it," Everette said.
Indeed, a survey found all 13 states had no additional money earmarked to carry out these new alerts.
Last November, New York Gov. David Patterson vetoed a bill to create a Silver Alert in his state, warning that it could dilute the effectiveness of the Amber Alert.
Colorado's alert covered those older than 60 with mental impairments. In 2007, lawmakers in that state added to the alert anyone who has a developmental disability who's missing. Over the past two-plus years, only eight in Colorado disappeared, and all were found.
The biggest complaint about these laws was that it would add to the workload of police and first responders.
"The only pushback we got from law enforcement was concern that they were already doing Amber Alerts and this would only add to their burden," Groff said. "At the time, I tried to assure them of my belief that this alert would not be a common occurrence, but a once-in-a-while phenomenon."
Some state lawmakers also moved to limit the invasion of privacy that results from these alerts. Most require that a parent or guardian of the missing person sign a waiver that permits the alert to include some personal health information.
Once someone is found in North Carolina, for example, state officials there contact the local media to request that any alert information be deleted.
"It's fair to think people are going to be nervous about their health information staying out there on the Internet," Everette said.
There has been debate in other states about whether searching for seniors with impairments proves more costly and difficult than other missing cases.
Tennessee lawmakers are debating the program this year. Diane Gramann, area director of the Middle Tennessee office of the Mid-South Chapter of the Alzheimer's Association, said finding someone with Alzheimer's can be tricky.
"Most people are found within a mile and a half, but what happens in the case of Alzheimer's patients is they have a tendency to hide, so they're not readily found," Gramann said. "They do not behave as a lost hiker or a lost child might.
"It's a completely different set of behaviors they exhibit, so the more people looking for them, the better."
A key difference with Amber Alerts is that when children disappear, the alerts break into regularly scheduled programming on radio and television. When impaired seniors go missing in these 13 states, this interruption doesn't occur. Instead, the alert message gets repeated on air during commercial breaks every 30 minutes or every hour.
Georgia Bureau of Information spokesman John Bankhead said lawmakers in his state made this adjustment to quell fears these senior alerts would wind up clogging the airwaves.
State Rep. Peter Batula, R-Merrimack, modeled the proposed New Hampshire bill for an alert (HB 279) after the Colorado law.
A year after becoming the first state to create an alert for missing seniors, Colorado added an alert for anyone missing who has a development disability.
"If New Hampshire looks at the Colorado example, I think it will find this is an important program that does not get overused," Groff said. "There aren't a lot of these cases, but having a protocol in place can make all the difference when someone disappears."
States on the alert
This is a state-by-state summary for the 13 states that now have programs to locate senior citizens with mental impairment who have disappeared.
The New Hampshire Legislature is considering legislation (HB 279) to create an alert that would also cover someone of any age with a developmental disability.
All require the missing person be a resident of that state. It begins with a summary of the New Hampshire proposal from state Rep. Peter Batula, R-Merrimack.
| | | | | |
| --- | --- | --- | --- | --- |
| | Who is eligible? | Lead agency | Protocol | Success rate |
| NEW HAMPSHIRE | 65 or older with mental  | State Department  | Local law enforcement  | Only proposed. |
| | impairment; anyone with  | of Safety. | verifies validity. Safety  | |
| | developmental disability. | | department issues alert. | |
| COLORADO | 60 or older with mental  | State Department of Public  | Local law enforcement  | Deployed eight times  |
| | impairment; anyone with  | Safety, Bureau of Investigation. | contacts state, media outlets.  | since program began. |
| | developmental disability. | | Alerts broadcast.  | |
| DELAWARE | Those older than 60 or anyone  | Delaware State Police. | Local law enforcement  | Unknown. |
| | who is disabled or suicidal,  | | sends alert. Information placed  | |
| | regardless of age. | Public Safety, Bureau of  | in national, state databases. | |
| GEORGIA | Adults with cognitive, | George Bureau  | Law enforcement contacts  | Sixty-eight alerts issued; |
| |  developmental impairments. | of Investigation. | lead agency, which alerts  |  all missing have been found. |
| | | | media, law enforcement. | |
| FLORIDA | 60 or older  | Florida Department  | Statewide alerts issued | Twenty-seven issued; all were found –  |
| | with dementia. | of Law Enforcement. |  when vehicle is involved.  | six specifically because of alert. |
| | | | Local alerts can be issued. | |
| KENTUCKY | 18 or older with mental  | Kentucky Division of  | Local law enforcement contacts | Not available. |
| | or cognitive impairment. | Emergency Management. | emergency management, media outlets. | |
| LOUISIANA | 18 or older with mental  | State Department of  | To be developed,  | Not available. |
| | impairment. | Public Safety. | implemented for this year. | |
| MISSOURI | Those who don't qualify  | Missouri Highway Patrol. | Local law enforcement alerts highway | Not available. |
| | for Amber Alert,  | |  patrol. Automated phone alert used. | |
| | regardless of age. | | | |
| N. CAROLINA | Those with dementia or  | North Carolina Center  | Local law enforcement contacts state. | Not available. |
| | cognitive impairment,  | for Missing Persons.  |  Reverse 911 used to notify businesses.  | |
| | regardless of age. | | | |
| OHIO | 65 and older; missing  | Ohio Dept. of Public Safety,  | Attorney general must issue alert.  | Not available. |
| | adults older than 18 with  | Emergency Management Agency. | Law enforcement enters information  | |
| | mental impairment. | | in database.  | |
| OKLAHOMA | Seniors with cognitive  | Oklahoma Department  | State notifies media, law  | Eleven issued, all  |
| | impairment. | of Public Safety. | enforcement. Alerts broadcast  | individuals found alive. |
| | | | via weather radio.  | |
| RHODE ISLAND | 60 and older with mental | Rhode Island State Police. | State police notifies  | One issued; person  |
| |  impairment. Written  | | association that passes it  | found, but not because |
| | documentation required. | | on to media outlets.  |  of the alert |
| TEXAS | Those 65 or older with  | Texas Department  | State issues alert to local  | 73 cases, 67 safely  |
| | verified mental impairment. | of Public Safety. | law enforcement, media.  | recovered, with 21   |
| | | | Road signs can be used. | because of the alert. |
| VIRGINIA | Those 60 and older  | Virginia State Police. | Alerts may be issued  | Seven issued, five were |
| | with cognitive impairment. | | locally, regionally or statewide. |  found, none specifically  |
| | | | | because of the alert. |