Mom takes goose under her wing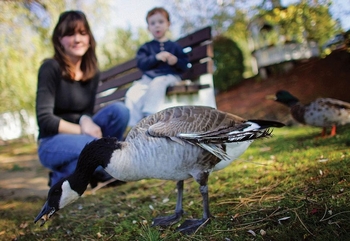 NASHUA – To most people a goose is just a goose. To Emilie Cassidy the injured and abandoned Canada goose she's kept an eye on for several weeks is a tragedy.
The Mont Vernon woman is worried about the fate of an injured goose, abandoned when its flock mates flew south for the winter, and she's looking for someone, anyone, who is willing and able to catch it so she can bring it to a bird rehabilitation center.
Cassidy first noticed over the summer that the bird, camped out in a small pond near the Clarion Hotel on Somerset Parkway in Nashua, had what appeared to be an injured wing.
A few weeks ago, Cassidy, an employee at Wynn Dog Rescue in Jaffrey, again noticed the goose, still injured and now alone. The goose is still there and still injured, and last week, Cassidy began her search for help.
"If we don't help it, it will probably just die," Cassidy said. "My hands are in the air. I'm desperate."
Cassidy has tried to enlist the Nashua Humane Society and New Hampshire Fish and Game with no luck. She found a shelter, Wings of the Dawn, in Henniker, but she needs to bring the gimpy goose to the shelter.
She contacted Nashua Animal Control but hadn't reached anyone as of Friday evening.
"I know there's somebody out there (who will help)," Cassidy said.
"They can be nasty," she said.
Cassidy said as an animal lover, it's hard for her to see the goose and know it likely won't live through the winter without help.
"It's just in my blood. I can't look away," she said. "It's just so sad to see something helpless there, withering away. It's just sad."
Anyone interested in helping catch the wounded bird can e-mail Cassidy at emi1@comcast.net.