Mom gets 2-10 years for abuse of child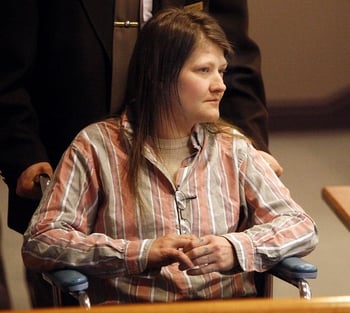 NASHUA – A 12-year-old girl could have testified that her mother forced her to stand in place all night with a fan blowing on her and denied her nightly bathroom privileges for six months.
She could have told a jury, in detail, how her mother sprayed water on her, shut off the heat in her room and fed her only Cheerios for breakfast and dinner.
The girl was spared from recounting the systematic abuse at the hands of her mother, because Theresa Bergeron accepted a plea deal to avoid a trial.
On Tuesday, the prosecutor in the case compared Bergeron's abuse of her daughter in 2006 to the torture of prisoners at Abu Ghraib prison in Iraq.
"The only thing similar is the treatment of prisoners of war" at Abu Ghraib, said Assistant County Attorney Paula Philbrook.
Bergeron will serve a 2- to 10-year prison sentence and the daughter will ultimately be able to move on with her life, Philbrook said.
The girl, who was 10 at the time, suffered physical and mental stress similar to that inflicted on detainees at the Iraqi prison, she said.
During the 2- to 10-year concurrent prison sentence for the five separate abuse crimes, Bergeron will not be allowed contact with her daughter. For falsifying evidence during a police investigation of the abuse, Bergeron received a suspended 3½- to 7-year sentence in return for good behavior.
Hillsborough County Superior Court Judge William Groff said he wanted to impose a longer sentence. Yet he added that the deal Bergeron struck will spare the girl further pain and allow her to rebuild her life.
The girl is now living in a safe place, and is in good care, Philbrook said.
"These were horrific crimes," Groff said. "You always assume a parent will provide love, trust . . . but you abdicated . . . the elemental values of human decency," Groff said.
Bergeron, who sat through the nearly hour-long plea-and-sentencing hearing in a wheelchair, admitted to various abuses – including making her daughter stand in one spot for about 12 hours straight.
After Philbrook finished reading the prosecutor's sentence recommendation, Groff – with his head down reading papers – asked Bergeron to stand. But when Bergeron motioned to her wheelchair, Groff looked up and apologized.
Bergeron's attorney, Justin Hayes, declined to comment on why Bergeron sat in a wheelchair. But in court papers filed last year, Hayes had sought and then withdrew a request that Bergeron be allowed to leave county jail for medical treatment of a diabetic condition.
At the hearing Tuesday, Bergeron said she had not taken several prescription medications so that she could have mental clarity to enter her pleas. Groff and the attorneys didn't discuss what medications Bergeron takes.
As part of her plea deal, Bergeron agreed to testify in an upcoming trial against her former girlfriend and housemate, Chrisias France.
France is charged with taking part in the abuse, failing to report it, and helping try to hide evidence of it once police got involved.
Bergeron admitted to forcing the girl to stand in place all night with a fan blowing on her, spraying her with water to chill her, and also keeping her awake for two nights in a row.
She also admitted to starving the girl by feeding her only Cheerios cereal for breakfast and dinner. And she acknowledged she locked the girl in her room with no access to bedding or a bathroom, and covered the heating vents.
"This is a case that shocks the consciousness of the public," Philbrook said.
This marked Bergeron's second plea deal. The first was scrapped after prosecutors learned that Bergeron and France were still living together, in violation of bail conditions, and that Bergeron was faking medical conditions after suffering a stroke.
She had been free on bail after her 2006 arrest, and first negotiated a plea calling for one to 10 years in prison.
Groff found her competent to stand trial, ruling that she had faked or exaggerated amnesia and other mental problems. Phone calls Bergeron had made to France from jail proved that she was deliberately faking amnesia in the hope of avoiding prosecution, Groff found.
Bergeron previously was convicted of a felony assault and battery charge for shaking another daughter, who was then an infant. The girl was left with permanent, irreversible damage, including the loss of her vision, as a result of the abuse, court records show.
Bergeron, then 23 and living in Lowell, Mass., was given a suspended jail sentence and ordered to undergo therapy at a family counseling center after her 1993 conviction, Middlesex County (Mass.) Superior Court records show.
More than a decade later, in 2006, police began investigating Bergeron again. Her daughter's elementary school teacher became concerned that the girl was limping, and unable to stay awake in class.
A neighbor repeatedly reported concerns about Bergeron to the state Division for Children, Youth & Families in 2005. But it is unclear what action social workers took, if any, beyond visiting the home.
Bergeron's daughter was taken from her custody after her arrest in 2006, as was her older daughter after the 1993 case. She will not be allowed any contact with her younger daughter except by further order of the county Probate Court and approval from prosecutors and DCYF, her plea bargain states.
The daughter may have to testify in France's upcoming trial, Philbrook has said.
At the hearing, Bergeron also waived her right to have a judicial panel review Groff's sentence.