Mobile concession Industrial park in Hudson to get food truck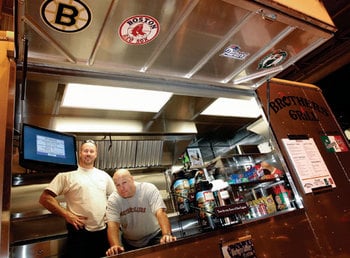 Next week there will be one more place to eat in Hudson. On Monday, Ed Canto, the owner of the Sausage King of Nashua, will open Brothers Grill, a mobile concession truck, in Sagamore Park.
The truck will travel around the industrial park off Lowell Road, from 7 a.m.-2 p.m. Monday through Friday and offer breakfast sandwiches and coffee in the morning and Italian sausages, hot dogs, and meatball and steak tip subs in the afternoon, Canto said.
"I've been eying that location for years, and finally I said it's time we do it," he said. "It's time to kind of kick it up a notch."
Canto has owned the Sausage King of Nashua for seven years. The Sausage King cart is parked outside Nashua's two Home Depots seven days a week, year round and also at a number of fairs, festivals and special events in the area.
Canto, who's partnering with Massachusetts resident Brent Davis on Brothers Grill, said people he's talked to in the park are looking forward to the new eatery since it will mean they won't have to fight Lowell Road traffic at lunchtime.
"We're looking forward to getting out there," Canto said. "I think it's kind of been a long time coming."
Hudson selectmen approved a hawker-and-peddler license Tuesday night allowing the concession truck to operate in Hudson. The license expires Nov. 30.
The arrival of Brothers Grill coincides with selectmen trying to court a Massachusetts company here, which could bring up to 125 jobs to the park.