Mix It Up at Lunch Day hits nerve with sweaty palmed students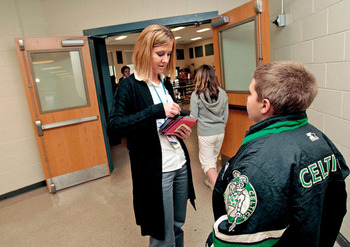 HUDSON – The fourth- and fifth-graders at Hills Garrison Elementary School looked as if they were being sent to face a firing squad in the cafeteria instead of tuna fish sandwiches.
It was Mix It Up at Lunch Day on Thursday, and they weren't going to be sitting with their usual group of friends.
Instead, Hills Garrison guidance counselor Jen Barry handed each child a piece of colored construction paper that corresponded to construction paper taped to the ends of the cafeteria tables. The children, who usually get to choose their seats, had to sit at the table that corresponded to the squares clutched in their sweaty palms.
"I have to say, the students have been anxious," Barry said, watching them find their seats.
To prepare them for the event, part of the seventh annual national Mix It Up at Lunch Day – a project of the Southern Poverty Law Center's Teaching Tolerance program – Barry visited the fourth- and fifth-graders twice, discussing issues like cliques and encouraging students to talk to someone they don't know well and find out three things about that person.
More than 10,000 schools participated Thursday, according to the national Mix It Up organization.
"We understand hanging out with people we think are most like us can be comfortable," wrote national program director Samantha Elliott Briggs in the Mix It Up brochure. "But we also understand it can be uncomfortable when you want to hang out with someone new and other people think you should 'stick with your own kind.' Nowhere on school campuses are the boundaries of group membership more clearly drawn than in and around the cafeteria."
Barry passed out Popsicles – an extra treat for those who were participating in the special lunch.
"The school did this last year, but still, the kids were nervous at first," Barry said.
Fifth-grader Mariah Evans was one of the nervous ones.
"At first I didn't like Mix It Up Day," Evans said. "You just don't know who you're going to sit with. It's kind of weird."
But at least one fifth-grader was looking forward to the event.
"I love Mix It Up Day," Alex Deslauriers said. "It's a great chance to meet new friends."
The truth is, by the middle of the lunch period, most everyone at the tables were so comfortable with the new seating arrangements, the monitors had to turn out the lights – their signal to quiet down.
"So what do you do on the weekend?" asked Riley Paletta of fellow fifth-grader Giancarlos Gonzalez – both of whom were seated at the orange table.
The boys said they know each other from school but don't usually eat lunch with each other.
"I'll probably play basketball outside," Gonzalez said.
To which Paletta responded: "I have two basketball tournaments."
Down the table from Deslauriers, fifth-grader Matt Canarelli chewed on his sandwich.
"I'm just hungry," he said.
According to a 2008 survey of Mix It Up at Lunch Day organizers: Seventy percent of students surveyed named the cafeteria as the school setting where social boundaries are most clearly drawn, more than half of students describe their schools as 'quick to put people into categories' and 40 percent of students admitted that they had rejected someone from another group.
Hills Assistant Principal Lois Connors said "students usually eat with the same kids at the same tables every day. This gives them a new perspective. I think it makes them more tolerant to other people's differences too."
Barry said that is definitely the point of Mix It Up, "to celebrate diversity and to get students out of their comfort zone and reach out to other people."