Misfortune doesn't hold back senior from South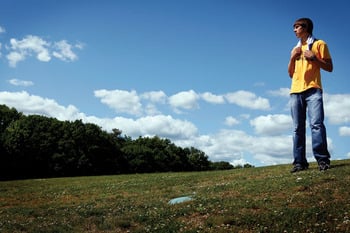 Over the past two years, David Gervais has experienced more loss than some go through in a lifetime.
In July 2007, Gervais' 17-year-old sister Amanda committed suicide. And this month is the one-year anniversary of the death of Gervais' father, who succumbed in 2008 after a lifelong battle with alcohol addiction.
"When my dad passed away, it was like everyone in my family was dying," said Gervais, a senior at Nashua High School South who will graduate this weekend.
But Gervais, 18, has persevered, overcoming the loss of one of his two sisters and his father, as well as a host of other setbacks, including blindness in one eye and the fact that his parents separated early in his life.
He took it upon himself to take more difficult AP and honors courses his junior year.
Earlier this year, Gervais was named as one of the recipients of the Horatio Alger national Scholarship, which comes with a $20,000 scholarship.
The honor is intended for high school students who have had to overcome extreme adversity. Gervais traveled to Washington, D.C. to get the award. During the trip, Gervais got to meet Denzel Washington.
This fall, Gervais will be attending the University of New Hampshire to study mechanical engineering. Over the summer, he will be working at an internship at BAE Systems.
Gervais remembers growing up in an atmosphere where money was tight and government programs were needed for assistance.
"I just didn't want to live like that," he said. "It just pushed me through school."
Gervais has taken part in track and field and cross-country since middle school. At South he helped to lead the outdoor track and field team to a tie for the Class L championship earlier this year.
Gervais said that over the summer, he runs about 70 miles a week as part of his training. It is during that training that Gervais said he gets a chance to think and reflect on some of the things he has gone through.
Art Demers, Gervais' cross country and track coach, said he has been impressed with the way Gervais has been able to move past the tragedies he has gone through.
"Even with some of the family issues he's had, he's showed and tried and tried and progressed," Demers said. "He's a wonderful human being."
Gervais remembers vividly getting the phone call telling his sister had taken her own life. He was over a friend's house when he got the news.
"I didn't know what to do," he said. "I just sat somewhere by myself and thought."
He remembers having that empty room in his mother's house. He doesn't know why she took her own life.
Gervais said he and his father never had a great relationship. Gervais said he often tried to get his father to stop drinking and smoking. When he saw cigarettes in the house, Gervais would break them.
After his parents split, Gervais was living with his father. He admits that he tried to run away a couple of times. Once the Division of Children Youth and Families got involved, Gervais said he moved back in with this mother.
Gervais started running when he was in middle school.
It was through running at Fairgrounds Middle School that Gervais, in an encounter that would change his life, met Ethan Dionne, a classmate who would become one of his best friends.
After going to South his freshman year, Gervais' mother moved across town, which meant he had to switch to Nashua North. A car accident that damaged his knee also meant he'd have to sit out from cross-country that year.
A year later, just before his junior year, his mother told him they would be moving again, this time to Hudson. It would mean having to go to his third high school in three years. So Gervais turned to the Dionne family.
Gervais asked if he could stay at their house so he could go back to South. They agreed and he moved in with them for his junior year.
"They looked at me like I was part of the family," he said.
Now that he has a car, Gervais said he goes back and forth between the two households.
When he returned to South for his junior year, NHIAA officials prevented Gervais from taking part in track and field or cross-country, alleging that he was recruited to come back and play for South.
Demers said those allegations were unfounded, but Gervais chose to help manage the team instead of run that year.
"He stuck by his teammates and encouraged them," Demers said.
And Gervais is still running. Before his graduation Sunday, he will be taking part in a decathlon.
Over his life, Gervais said he has learned that you have to responsible for your own destiny, regardless of what life throws at you.
"Set your goals," he said. "Don't let anyone else set your goals for you."
Michael Brindley can be reached at 594-6426 or mbrindley@nashuatelegraph.com.