Milford parade rolls on, minus most politicos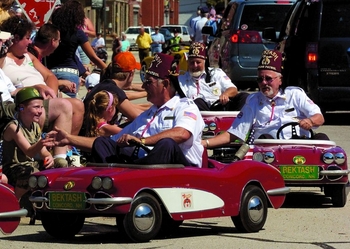 MILFORD – Some people wear their hearts on their sleeve. Melissa Dougherty was wearing her hometown on her chest.
Carrying 1-year-old daughter, Addison, as she walked on the Milford Oval at the beginning of the annual Labor Day parade on Monday, Dougherty was easily identified as a Milford resident.
Her T-shirt read: 03055.
Milford's zip code.
And when she was asked why, she was suddenly wearing a big smile.
"I'm from Milford. It's the town I live in, and I thought it was fitting for the parade today," she said.
Dougherty grew up in Milford and graduated from Milford Area Senior High School in 1991, so she's seen quite a few Labor Day parades.
"I've been coming to the parade since I was old enough to walk, even back when they used to have the carnival down at Shepard's Park," she recalled.
In those days, the parade came down Nashua Street and into the Oval before crossing what was for years known as the Stone Bridge but eventually named for Col. John Shepard. Today, and for the past few years, the parade began at Milford High School – Melissa Dougherty's alma mater – and came down West Street to Elm before entering the Oval.
For Dougherty, the ties to Milford are more than just MASH – where, as Melissa Drouin, she played forward on the girls basketball team.
As she stood across the street from Town Hall, she said, "My grandmother is Rita Therrien; she used to work at Town Hall (and) she's still very involved in the town."
In one important way, so is Dougherty.
"Now I raise my family here," she said as more than a half-dozen fire trucks went rumbling by, sirens screaming. Neither she nor Addison seemed to mind.
If the 2008 version of the Labor Day parade was notable for anything, it was the distinct absence of presidential aspirants – a year after three showed up to march.
Last year, former Massachusetts Gov. Mitt Romney still had Republican hopes and worked the crowd.
Sen. Chris Dodd, of Connecticut, still entertained the notion of being the Democratic nominee and rode through the Oval in a convertible. And Sen. Barack Obama was the star of the parade, jumping from a red convertible and launching himself – and perhaps his ascendancy – into the crowd on the Oval.
This year?
Well, the parade had Gov. John Lynch, of course, because the governor is always the grand marshal. And it had former Gov. Jeanne Shaheen, making her second run for the U.S. Senate. It had Shaheen's November opponent, incumbent Sen. John Sununu.
It also had some congressional hopefuls and a float full of local Republican state House hopefuls – although clearly not all 11 running in Tuesday's GOP primary. But the two biggest political guns in the country – Obama and Sen. John McCain – were . . . well, elsewhere.
But it did have something new: Mary Jane Ryan and her husband, Bill, wearing "Parade Staff" T-shirts as they worked on the Oval, and Barbara Parry – perhaps the grande dame of the parade – wore one of the shirts as she kept things working from the town bandstand, where Selectman Kathy Bauer and Bill Biser were judging floats.
"It's something (the Veterans of Foreign Wars post, one of the parade sponsors) always wanted to do," she said as she kept watch over the kids' face painting and letters-to-soldiers booths at the Elm Street entrance to the Oval, "and they decided to get it done this year to help things be more organized."