Milford food pantry gets new, bigger home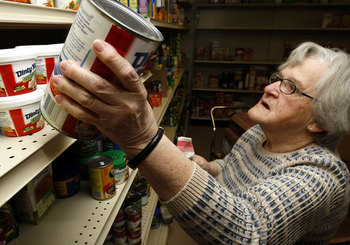 The SHARE food pantry is scheduled to reopen Wednesday at its new digs at the former Knights of Columbus building on Elm Street.
About a dozen volunteers brought over thousands of food and personal care items from its former location at St. Patrick Church on Saturday.
On Monday, volunteers packed up refrigerated items and moved them to the new location. Brennan MacKay Appliance Sales and Service of Milford then brought over the freezers.
"The volunteers have been absolutely amazing," said SHARE co-director Alexis Eaton, of Milford.
SHARE provides food, clothing, emergency financial assistance, holiday baskets and gifts in cooperation with area churches.
The 30-year-old nonprofit agency serves people in Milford, Amherst, Mont Vernon and Brookline.
It bought the Knights of Columbus building at 42 Elm St. in September. SHARE had been located at the church since it began. SHARE's clothing barn will remain at the church, located on Amherst Street.
Eaton and her co-director, Helene Belanger, of Manchester, say the move will give the pantry a lot more space.
In addition, the new pantry is nearly on ground level, so clients won't have to use a flight of stairs to get to the pantry.
There will also be a reception area at the new building. Previously, clients had to wait in the hallway at the church.
While Eaton and Belanger were overseeing the move Monday morning, volunteer Food Pantry Coordinator Maryann Pank and three other volunteers were unpacking boxes and stocking shelves with an impressive amount of stuff.
"All this will go quickly when we reopen on Wednesday," said Pank, who added that more volunteers would be needed and welcome.
To volunteer call 673-9898.
The food pantry is open 9 a.m.-noon on Mondays, Tuesdays, Thursdays and Fridays and 1-4 p.m. Wednesdays.