Milford auto accident leaves 2 women hurt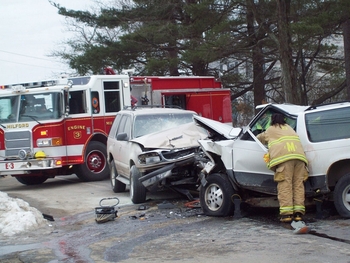 MILFORD – Two women were injured, one seriously, in a two-car accident on Elm Street around 12:40 p.m. Friday.
Witnesses said a white Chevrolet Blazer heading east tried to make a left turn in front of the Blue Seal feed store on Elm Street, Route 101A, and slammed into a beige Ford Explorer. The woman driving the Explorer was taken away by ambulance but appeared to have minor injuries.
A witness who said he was traveling immediately in front of the Blazer, about 50 yards ahead, said he tried to take the pulse of the woman in the Blazer before rescue crews asked him to back off.
He said there was no air bag in the Blazer, and rescue crews had to pry off the door.
There were no passengers in the vehicles.
Milford Police did not release the drivers' names or any additional information about the crash.