Milford aims for smooth first day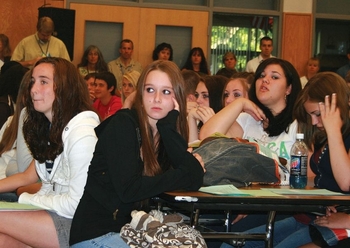 MILFORD – There weren't many worried faces among the Milford High School freshmen at their opening day of school Wednesday.
Instead, the 230 new students looked mostly cool and calm, thanks to an all-day orientation program designed to make them as comfortable as possible before the official start of school today.
The freshmen met their teachers, learned their schedules and generally got acquainted with the school and what it has to offer.
Similar rituals unfolded at schools in Amherst and Merrimack, Pelham and Windham, and Wilton and Lyndeborough on Wednesday, as students and school officials got another year under way. Hollis and Brookline schools will open today.
Nashua schools were the early birds this year opening Tuesday. The late starters are Hudson and Litchfield, who start Tuesday.
Back in Milford, the day started at 7:30 when the new students were given nametags and schedules and then milled into the cafeteria where teachers and 30 upperclassmen welcomed them.
All around the cafeteria were teacher mentors, who arranged themselves alphabetically and held signs on which they had written their last names to make them easier to find.
Principal Brad Craven told the freshmen that they have a "host of opportunities here. Our job is to dangle hundreds of hooks in the water" until they find courses and activities that are "exciting and meaningful to you."
The principal also told them to come to his office anytime they have a problem.
"You'll leave feeling better. We'll come up with some sort of plan," he said.
Throughout the day the young students learned about clubs and activities and went through mini-versions of their schedules so they could meet their teachers and got information on nutrition, health and wellness.
At lunchtime they ate with the faculty, and at the close of the day teachers put on a "What Not to Wear – Milford edition," patterned on the TV show, but more about the school dress code than about fashion.
Craven said he started the freshman orientation program about 10 years ago.
"When in was a new teacher in 1981, I remember my first day of high school at MASH (Milford Area Senior High)," he said.
There were a lot of new teachers because turnover was so high "and they were throwing stuff at you. It was overwhelming, so I said we need the same thing for freshman," he said.
The school's 3-year-old mentor program uses faculty and 30 upperclassmen and it complements the freshman orientation, giving students "people they can go to and to create a "collaborative learning environment," said pre-engineering teacher and student council adviser Frank Xydias.