Middle school to see increased presence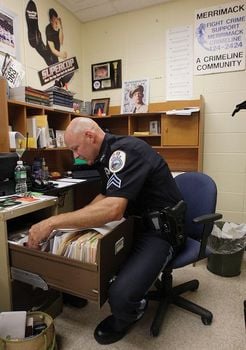 MERRIMACK – School officials hope to bridge a gap by establishing a police presence at the middle school this year.
Officers have long made the rounds at the town's elementary schools for different programs, including drug abuse resistance education. And the high school has had a full-time resource officer for eight years.
But when Merrimack Middle School split into a new building some time ago, it was inadvertently left out of the police officer loop.
"Anybody who knows, developmentally, this is a volatile age group," school board member Jody Vaillancourt said. "Some of them are big kids, and their issues are starting to become big. Why do we not have a police presence in their lives, as in all the other grade levels? It just doesn't make sense."
Vaillancourt and many others got their wish late this summer, when Police Chief Mike Milligan proposed a program that puts an officer in the middle school for 10-12 hours a week.
The idea has been on the police department's plate since 2005, but there have been challenges with resources, time and money. Finally, after discussions with Superintendent Marge Chiafery and Town Manager Keith Hickey, Milligan figured out a way to shuffle officers' hours without incurring more costs.
"I believe we have a need for a school resource officer in the junior high school – criminally, socially and educationally," Milligan said. "And we also want the children to see the police officer as somebody who's a real person."
Merrimack Middle School Principal Tom Levesque, who has been in the district for 36 years, said he's seeing more incidents with adults, such as custody issues.
And while the district has focused on cracking down on bullying and harassment, it continues to flare up, Levesque said. Secondary to that is student noncompliance – chronic defiance of reasonable school rules.
An officer, he added, would provide a level of security in the building and a person for students and staff to share concerns with.
"I'm just convinced, having been a teacher myself, that school resource officers do an invaluable service to the community," school board member Emily Coburn said. "We don't have a history of anything like a Columbine, but in this day and age, you pick up a newspaper and turn on TV and something is happening in schools. I'd rather be proactive than reactive."
Several other middle schools in the area have some sort of police presence.
"It's been very positive," said Amherst Police Chief Peter Lyon, whose middle school officer position has been in place five years. "He's been able to respond to incidents before they became incidents, I guess, and just kind of be there as a mentor for adolescents."
Hollis Police Chief Russell Ux said the school resource officer just started her third year. He said he has received "excellent" feedback from teachers and parents.
"We are tickled to death with it," Ux said.
In Merrimack, the plan is to assign Mike Murray, the high school's resource officer; Tom Prentice, the community service and DARE officer; and juvenile officers to shared responsibility at the middle school.
Then, officials will collect data throughout the year – tracking counseling sessions, sit-downs and general interactions – for periodic evaluation. At the end of the year, the group will decide how to move forward.
"I'm looking for data and information and feedback from police, students, families and people at the middle school," school board member Roy Swonger said. "I'm confident that the information that will be provided to us will say there is a need and this is something we need to support."
At the same time, everyone is keeping an eye on the bottom line.
"Eventually, what I'd like to see is a permanent resource officer," school board member Jennifer Thornton said, "but I don't want to see . . . a huge negative impact on resources within the police department, and I really am very adamant about not being a strain on our tax dollars and budgeting purposes."