Mid-Year Review: Businesses try to manage in the economic tide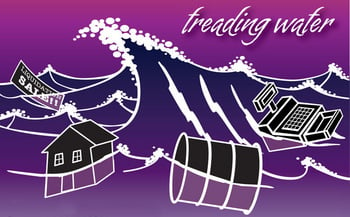 Call it a recession, call it a correction — whatever you call it, the economic picture these days is not a pretty one. Energy costs at an all-time high. Home prices are falling. Foreclosures and bankruptcies are skyrocketing. Job and income growth have stalled. Consumer confidence is shot. Shoppers are stingy. Tourists are sticking close to home. And credit is hard to come by.
"There is no doubt that we are heading for a recession," said Scott Clemons, director of global equity strategy for Brown Brothers Harriman – the nation's oldest privately owned bank – and the keynote speaker at a June 19 economic overview sponsored by the Business and Industry Association of New Hampshire.
While the outlook for New Hampshire in particular is not less gloomy, there are some bright spots. For one, as Clemons acknowledges, New Hampshire isn't doing as badly as the rest of the country when it comes to jobs, with an unemployment rate of 3.8 percent in April — 1.2 percent above the national rate and only a tenth of a percent above the rate last year. (The national unemployment rate jumped a half a percent to 5.5 percent in May, but local figures had not been released by deadline.)
Nor is the local housing market affected as much as others around the country, which have been crippled by foreclosures and sharply falling housing prices.
"We didn't do as many stupid things in the housing cycle as the rest of the country did this time, and we did in the 1980s," said Dennis Delay, New Hampshire Forecast manager for the New England Economic Partnership. "So we are in a little better shape then rest of country."
There are a few other bright spots as well: Exports are on the rise, thanks to a weakened dollar. The Department of Homeland Security continues to send money to New Hampshire contractors as fast as they can soak it up. Road and institutional building (hospitals and schools, mainly) have kept some aspects of the construction industry going.
Still, this is not the time for most businesses bask in sunlight.
Real Estate: A sinking feeling
Let's start our cruise through the state's economic waters by looking at one of the basic necessities of any economy: providing a roof over people's heads.
This time the downturn, for lack of a better word, really started with a housing slump. It was housing, or rather the easy credit based on rising housing prices, that eased the last downturn, which was precipitated by the collapse of the high-tech bubble punctuated by the terrorist attacks of September 11th.
"When housing prices increase, people don't just feel richer, they are richer," said Delay. "They can borrow against the equity of their homes."
No longer.
Here are the stats: In the first third of 2008, home prices fell by 8.2 percent from the first third of last year. Sales are down nearly 24 percent. Foreclosures and delinquencies, which used to be an insignificant part of a financial institution's portfolio, are helping to drag down the entire market.
In the first quarter of the year, more than one out of 15 loans were either delinquent or in the process of foreclosure.
Yes, those delinquencies and foreclosure are more common among holders of subprime mortgages, but they also are prevalent among prime borrowers with adjustable mortgages.
With housing values down, homeowners have a lot less equity in their homes, especially if they didn't have much to begin with and were using home equity revolving credit lines like a credit card to get by.
Homeowners who are upside-down on their homes – owing more than the house is worth – can't refinance no matter what the interest rates are. And home values have declined even further in the eye of appraisers than they have in reality, because appraisers – one of the commonly blamed culprits for the subprime mortgage mess – are being a lot more conservative these days, especially in certain neighborhoods, where bank-owned fire sales are more common.
And even borrowers who have some equity or cash still have more problems obtaining a loan. Lenders are more careful, and "many of the loan vehicles have disappeared," notes Nancy Philbrick, president of the Greater Manchester/Nashua Board of Realtors.
For instance, borrowers previously could avoid mandatory mortgage insurance (which once upon a time required a 20 percent down payment) when they put no money down, thanks to "piggy bank" loans, for which the bank (or more likely the mortgage company) provided two loans — a traditional 80-20 loan, and another home equity loan or second mortgage to cover nearly all of the down payment.
"Only people who are careful, who have kept their credit clean and have some equity can get a loan," Philbrick said.
Although the statistics weren't in by deadline, things have seem to have picked up a little in May, compared to April.
On the Seacoast, for instance, the number of sales have climbed to 43, three more than in April, according to Seacoast Board of Realtors President John Rice. However, in May 2007 there were 66 sales.
It isn't as though Rice and other brokers don't have anything to do. He now has more listings then ever for potential buyers willing to look a them.
"People think we are sitting around with cobwebs on my computer. I've never been more busy," he said.
The problem is that too many buyers think that the market is in free-fall and are waiting for prices to fall further, he said. It isn't, said Rice — at least not on the Seacoast. Nevertheless, "people are just not willing to pull the trigger," he said.
Still, said Rice , "I could say, 'Woe is me,' or I could do something about it."
What Rice decided to do is actually pay for gas to get other brokers to come to a luncheon meeting to check out his properties. The gimmick apparently worked. Brokers were so frustrated shelling out gas to cart around reluctant buyers that they appreciated the gesture, and some 30 came to the meeting, though only two actually took the gas money.
"You've got to come up with a different angle, especially in this economy," Rice said.
Not everybody has been hurt by the housing downturn. Therese Haberle, who sells bank-owned real estate, is in the "sweet part of the market — a booming niche."
Last year she had 40 properties listed the entire year, and by June of this year she has already listed 30. Buyers who are looking for deals, she said, can often find them.
"I'm quite shocked by offers accepted by my clients," she said.
Her clients – large financial institutions – are not so much interested in getting the best price.
"Bankers in their cubicles, who just want to unload properties by the quarter, will just push a button. Sometimes I say, 'Wait a second. I was just offered $20,000 more for it last week. I could get a bidding war going.' And they say, 'No, I want to clear the property.'"
Haberle warns that real estate agents who are trying to get into her business "are just wasting their time, unless they are doing the groundwork for the next time around."
Construction: Against the tide
The real estate slowdown only exacerbates a home-building slowdown, which has been quietly going on for some years now.
Housing permits have been on a downward slide since 2004, reports Kendall Buck, president of the New Hampshire Home Builders and Remodelers Association. In 2005, there were 8.8 percent fewer permits than in 2004. In 2006, the drop was 36 percent. In 2007, another 20 percent drop. And in the first few months of 2008, another 18 percent drop.
Buck blames municipalities' reluctance to allow growth, particularly construction of workforce housing, which – combined with the housing slump – has resulted in "the most difficult downturn experienced in many, many years" for his industry. "The rest of the country caught up with us, and we went along for the ride."
Not everybody is being pulled under by the prevailing tide, however.
John Langill, president of Cherry Hill Homes of Pembroke, had a record-breaking year last year, and a mere average year the year before. He is aware of the slowdown, which on the whole is more serious for home builders than that of the early 1990s, he said.
Then, "the banks messed up by lending too much money to developers, leaving lots of vacant land" which other developers could than grab at bargain prices. This time, "the banks messed up by lending too much to end buyers."
All that inventory, he said, discourages much new construction.
But Langill kept up with trends, and with energy prices going up, he realized that consumers were shifting away from "McMansions" miles from town.
"Its not just that they want a shorter commute," said Langill. "I'm talking about schlepping the kids to soccer games and dance classes. That's a lot of work, even when gas prices are lower."
Instead, it was better to grab land closer to town and build smaller, well-insulated energy-efficient homes, adding more "bells and whistles" while cutting down on square-footage. Just a few "green features," like a bathroom fan to lower humidity, adds much more value than it used to.
"Builders are not adapting as fast as they should be," he said. "They are holding on to concepts from the mid-'90s. They don't have an edge in the marketplace, and you need one, especially in this marketplace."
While home-building on the whole is in the doldrums, other parts of the New Hampshire construction industry are doing pretty well, relatively speaking.
Yes, there is not too much interest in commercial building, whether it be retail or industrial, but the institutional market is still strong and the widening of Interstate 93 has pumped some $200 million into various asphalt projects, as opposed to $130 million a few years ago.
However, even that growth has been slowed, thanks the high price of energy, which adds not only to the cost of buildings, but to materials.
"The area that is most volatile is the prices," said Gary Abbott, executive vice president of Associated General Contractors of New Hampshire. "With a 30 percent jump in prices, that dollar increase in highway construction dollars isn't as dramatic as it appears."
Energy: Dealing with the deluge
The price of oil, of course, has affected every sector of the economy. Delay calls it a tax on the economy, eating up a full percent of our growth rate. And, considering that our growth rate last year was about 3 percent, "a third of our growth went to pay for higher energy prices," says Delay.
The Northeast is more dependent on heating oil than most other regions of the country. And because of its more rural character, New Hampshire's a bit more dependent on the price of gasoline then much of the Northeast.
To see how pervasive the increased cost of energy is, consider:
• The forestry industry has been devastated by higher diesel prices, which affects both the price of cutting and hauling wood. On top of that, the housing slowdown has caused the price of lumber to plummet, making the market particularly soft for softwoods, reports Jasen Stock, executive director of the New Hampshire Timberland Owners Association.
The only good news – ironically, in light of the recent shutdown of pulp and paper mills in the North Country – is the increased demand for pulp. With the prices of oil skyrocketing, there is increased desire to burn wood, both in new bioenergy plants, and by consumers who are increasingly burning wood pellets made from sawdust. Yet since loggers "are throttling back" production because of the aforementioned housing slump and oil prices, there is less waste wood to go around, resulting in a scarcity at the time of increased demand. And you don't have to be an economist to know what that does to prices.
• Despite a 65 percent increase in the number of days with snow cover last winter, there was only a minuscule increase in visitor trips last winter (under 1 percent). Spending was up by 6.3 percent, but it is difficult to know whether that was simply the result of higher prices of oil and food.
The snowfall also meant that less energy went into making snow. The downside, however, is that the cost of making that snow increased, and will be even higher next winter.
Last Memorial Day, travel was down by 5.4 percent, and the state is predicting a 4 percent decrease in travel. The good news is that thanks to the value of the dollar, foreign visitors, from both Canada and Europe, should continue to rise.
• Consumer spending has slowed pretty much across the board, as the price at the pump sucked out the spirit to splurge on anything but major necessities. The home industry in particular is suffering, though the downshift has helped discount stores like Wal-Mart boost sales.
"New Hampshire's harsh winter and recent hot weather, combined with a lagging economy and the continuously increasing cost of necessities such as food and fuel have affected consumer spending habits overall," report Eric N. Proulx, general manager, of the Tanger Outlet Center in Tilton.
But the outlet center itself is doing well, Proulx said, by adapting to the current economic climate. The mall is encouraging shoppers to carpool – to preserve the environment and their spending dollars – marketing it as "outlet power shopping."
For instance, if five people carpool, each person receives a Tanger coupon book and a tote bag. Squeeze seven people in a mini-van, and they each get a $5 gift card as well.
• While New Hampshire's job loss has been mild compared to the rest of the country, wages continue to slip, particularly in the manufacturing sector. The job loss has been particularly acute in the home-building industry, where the sudden shutdown of Customized Structures in Claremont and the Rivco millworks caused state officials to struggle to place unemployed workers.
Defense spending and imports have helped offset the job loss somewhat. BAE Systems, the state's largest military contractor, has not increased it 4,700 work force in Nashua, but it has been subcontracting more work out locally. In 2007, it spent $150 million in the state, compared to $142 million the previous year.
Meanwhile, thanks to the weak dollar, imports continue to grow.
According to the New Hampshire International Trade Resource Center, the state exported $1.2 billion worth of products in the first four months of 2008 — a 30 percent increase.
Such increases have benefited companies across the board, from Sky Skan, which exports planetarium technology, to Sig Sauer Inc., which exports firearms.
Sky Skan, a Nashua firm that installs digital theater components in such places as the Christa McAuliffe Planetarium, reported that 65 percent of its business is now overseas, a flip-flop compared to just a few years ago. Its latest project is a new planetarium in Beijing, just in time for the Olympics.
Sig Sauer, a Dover small arms manufacturer, doesn't attribute all of its recent growth to the dollar. The company went on a trade mission to South America, and two years ago found willing customers among police forces and military officials in such countries as Chile, Brazil, Argentina and Colombia. But the weak dollar has accelerated the trend, and the company now exports $15 million worth of pistols and rifles, compared to $500,000 the previous year. Indeed, the company also imports fewer components, which means more local jobs.
"While many companies are outsourcing, we are insourcing," said Pete Kujawski, vice president at Sig Sauer.
Bob Sanders may be reached at bsanders@nhbr.com.