Mid-Year Review: Aftermath of a storm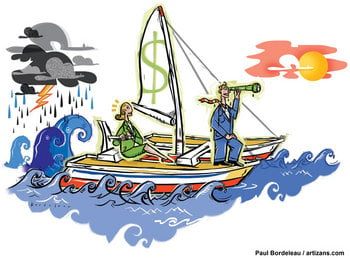 John Sutton, sales director at Dartware Inc., a West Lebanon-based developer of network monitoring software, trotted the globe over the last a few years — and it's a good thing he did. While the Great Recession slowed the company's domestic growth, international sales rose 53 percent, now accounting for more than a third of the company's business."We are very relieved, not to have our eggs in one basket," said Sutton.The same could be said for the New Hampshire economy in general. While the economic recovery has been sluggish across the board, in almost every statistic and sector, it has been slowly moving forward in fits and starts.
But not the export sector. Last year, according to U.S. Commerce Department statistics, New Hampshire exports grew by 44 percent in the first quarter of 2010. (True, the increase came after a drop of 18.4 percent in 2009 — but in 2008, state exports were up 29 percent.)Exports are no longer an insignificant part of New Hampshire's economy. They account for 23 percent of the state's manufacturing sales — a percentage higher than the national average of 22 percent, according to David Huether, the chief economist for the National Association of Manufacturers."This recession, exports will lead us out of the recession," declared Huether at a June 9 Business and Industry Association of New Hampshire luncheon in Manchester.He noted that during the last recession, exports lagged behind the rest of the economy, thanks to the high price of the dollar. But a weaker dollar these days means that exports are likely to be leading us out of recession, rather than being a follower.New Hampshire, as many in the state like to say, is doing better than the rest of the country, with an unemployment rate of 6.4 percent — the national rate is 9.7 percent, hardly a cause for celebration.Foreclosures and bankruptcies continue ahead of last year's record pace, though recent months show that the rate of increase seems to have slowed a bit.In New Hampshire, there were 361 foreclosures in April, right behind March, when the all-time record was set, and 19 percent higher than April 2009.Bankruptcy statistics are a bit more up to date and show a slight decline from the record, also set in March. There were 511 filings in April and 471 in May.So it's hard to see consumer spending flourishing when many people are still losing their jobs, their houses, their businesses and filing for personal bankruptcy. Yet everything is relative."How is the economy doing?" said Russ Thibeault of Applied Economic Research in Laconia. "Compared to what?"
'Huge sigh of relief'Part of this recovery has to be attributed – whether you like what President Obama did or not – to the American Recovery and Reinvestment Act.There is no doubt that the ARRA money stimulated the housing and auto markets with the homebuyer's tax credit and the Cash for Clunkers program. That stimulus, however, may only have temporarily got the patient going again, and it's possible the economy might feel the need for an afternoon pick-me-up."There was a flurry of buying that last week," before the April 30 contract deadline of the homebuyers credit, said Monika McGillicuddy, president of New Hampshire Association of Realtors.And this is reflected in the Realtors' figures. January through May sales rose 20 percent and prices are up 7 percent from a year earlier. But those figures only include closings, and the deadline for the closing tax credit is on June 30.Anecdotally, most Realtors saw a slowdown following April 30. For Maxine Goodhue, a Manchester Realtor, it literally "shut down.""I've had one deal since April 30," said Goodhue.But Goodhue said that record low interest rates and prices may be enough to bring buyers out of the woodwork."Stimulus, boo-hoo, it's done. Let's move on — it's still a good time to buy a home," Goodhue said.As housing goes, so goes residential construction. And since new homes are usually more expensive, the tax credit is less of a factor in the decision to buy them, said De Zielinski, vice president of Ashwood Development Corp. in Hudson.Potential buyers, said Zielinski, "are waiting for the market to get the best deal on interest rates and the price of the house."And the remodeling business has been picking up as well, reports Geoff Martin, president of the Cedar Mill Group in Webster."In the first quarter, we did more than all of last year … a huge sigh of relief," he said.The other major stimulus, Cash for Clunkers, did help car sales at the time, but now seems like ancient history (it ended last August).Nevertheless, the disenfranchisement of more than a dozen GM and Chrysler dealerships in New Hampshire has taken its toll, though some are still fighting to stay open.Then again, GM says it might need more dealerships after all — something that "gives me heartburn," said Peter McNamara president of the New Hampshire Automobile Dealers Association. "They turn around and say, 'We need you back,' after ripping these businesspeople's lives apart."However, for those dealers that are left, "sales are picking up, no doubt about that," said McNamara. "There has been some hiring."One of the benefits of GM and Chrysler's reorganization is that they weren't producing as many cars, said Scott Holloway of Holloway Pontiac Buick GMC Cadillac. The result was that many used cars were sold, and there is now a shortage."The used car market is crazy," said Holloway. "It's gone through the roof."In fact, prices are so high, that with manufacturing financing, "a new car payment is sometimes lower than a used car," he said.
'A slight uptick'The latest stimulus deal is cash for appliances. The trouble is New Hampshire invested its limited funds in promoting the purchase of hot water furnaces.
That doesn't benefit people like David Souter, vice president of Baron's Major Brands, a statewide chain based in Salem."Every appliance company in the surrounding states, the sales are going through the roof. Here it is pretty much status quo," Souter said.So Souter worked with his suppliers, and "we created our own Cash for Clunkers program," he said.The result? A "slight uptick. There is a little more comfort level."Even Garrison Hill, a Dover florist, has seen a little bit of a turnaround. While the second and third quarters of last year were flat, it's seen double-digit growth in the two quarters since."It's not like customers are saying, 'The recession is over and I have to spend money,'" said Tom Massingham, owner of Garrison Hill. "It's just this urge to get back to normal, to not do without as many things as they have been going without. If it isn't over, the worst is over."It's pretty much the same all over for retailers, said Nancy Kyle, executive director of the Retails Merchants Association of New Hampshire."People are doing a little better, so they are happy, but it might be very good one week, and next not as good. The recovery isn't going to be really quick."The statistics look promising when it comes to the state's tourism industry. The winter got off to a slow start, but picked up in January and February.
State rooms and meals tax revenue is up 9 percent year to date. And hotel occupancy year to date is up about 5 percent.Memorial Day was particularly hot — and that's not just a reference to the weather. Hampton Beach said it was one of the best ever. The Division of Travel and Tourism Development reported a 32 percent increase in calls from last year.The woods aren't just there for tourists, and the forestry industry seems to have bounced back. Red oak is selling again, when previously prices "fell off a cliff," said Jasen Stock, executive director of the New Hampshire Timberland Owners Association.However, there is a glut of wood chips on the market, thanks to a stimulus program that backfired. New Hampshire produced enough biomass, but nationally there was concern there wouldn't be enough to fuel power plants, so the federal government set up a biomass crop assistance program. Meanwhile, the biomass projects have stalled."That's how the government turned a shortage into a surplus," said Stock.Small business has traditionally led the nation out of recessions, and New Hampshire has a slightly higher percentage of small businesses, and the jobs they create pay slightly more, according to economist Dennis C. Delay of the New Hampshire Center for Public Policy Studies.According to Delay, who puts together the New Hampshire forecast for the New England Economic Partnership, the state's economy is expected to grow by 3.8 percent compared to 3.5 percent nationally. "It still is a pretty weak economy," Delay said.And it might be wise not to expect the high-powered high-tech entrepreneurs to lead us out of the recession this time either.The year so far "is not what they wanted to see," said Tom Daly, chairman of the New Hampshire High Tech Council and president of Dynamic Network Services of Manchester. "Hopefully they will pick up in the next few years."According to Jim Cook, an attorney who specializes in high-tech startups and a board member of the council, "raising investment capital is very difficult, so few deals are getting done."But if things are slow in United States, there are opportunities elsewhere. Dartware is rolling out its Web monitoring project in Portuguese, Japanese and Chinese — the languages of the three markets that company he hopes to tap in next."China is a tough market," said Sutton. "I think we have more of an uptake in Brazil — the growth in GPD there has been phenomenal."Bob Sanders can be reached at bsanders@nhbr.com.Read about more economic trends: "Limos, lipstick and funerals: reading the economic trend"