Merrimack trucker wins NH competition, heading to nationals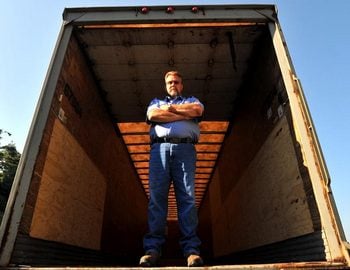 And you thought parallel parking your grandfather's Cadillac was tricky.
Mike Cloutier, of Merrimack, has been driving 18-wheelers for the last 34 years, which includes the artful act of squeezing a 72-foot-long truck and trailer into a sliver of a parking spot.
No wonder he was just crowned the state's best professional truck driver.
In June, Cloutier, 52, received the highest overall score in the 2009 New Hampshire Truck Driving Championships, besting 34 other competitors to earn a bid to the national contest in Pittsburgh later this month.
There, he will vie to win his specific class, the sleeper truck, and the overall national title.
To do so, Cloutier will have to ace the three-part challenge: a written test based on industry safety standards; a pre-trip truck inspection test, with deliberate defects built in for competitors to discover and fix under time constraints; and the driving skills test – which may include parallel parking.
Perhaps he has a leg up, as Cloutier made it to the national championships in 2003. He placed 12th in his class.
Cloutier – who has hauled everything from coconuts to concrete, and now does week-long stints in Massachusetts for Wal-Mart – says trucking is "a tough life, but a nice life."
The Telegraph caught up with Cloutier while he was on the road in Massachusetts. Here are excerpts from the interview:
Q: What are some perks of being on the road?
A: Basically, you're almost like your own boss. You can control your day. You know what you have to do, where you have to be, and you can control it without someone looking over your shoulder . . . I get up, shower, get coffee, start the day with a bowl of cereal, banana and milk. Maybe a couple of hard-boiled eggs. I'm on a low-carb diet.
Q: What's the sleeper truck like?
A: I'm six foot three. The truck I'm in, I can stand up and not touch the ceiling. I have AC, a fridge, TV, all the comforts of home. I don't have a restroom facility . . . It gets a little cramped when you have all your stuff in here, but over the years, the equipment's gotten better. Wal-Mart has excellent equipment.
Q: Does the road ever get lonely?
A: I've gotten to know a lot of people at where I stop. And now, with the cell phone, I'm in constant contact with my daughter in California, and my folks in Florida. Usually, by end of the day, I'm pretty tired . . . I'm used to this. I think I have a pretty good relationship with my wife. She's put up with it for 30 years. Her father was a truck driver.
Q: Do you travel an average number of miles per day?
A: I don't do a lot of miles in a day because of the type of run I'm on. But over the course of 34 years, I've done 3 million safe miles . . . You keep track in the back of your mind.
Q: What's the worst intersection you've encountered?
A: My route through Boston is the Ted Williams Tunnel, the Mass Pike. I should say there are no real bad routes. It's just that with the traffic and construction, it's a challenge.
Q: What's it like to drive one of the rigs in a city?
A: (Laughs). It's crazy. Let's face it: you have to be very, very careful. You have to have eyes all around your head. You just have to be cautious. The one thing you can't do is rush. You can follow the traffic, but you can't get out there and speed. You have to be defensive all the time.
Q: You must have seen some crazy things on the road for all these years?
A: (Laughs). There's stuff I could never tell you about . . . Years ago, when I worked for myself, my wife and son went to Florida with me in the truck . . . Years after that, when my daughter was small, she got in the sleeper on a trip. She read her books, played with dolls. That always made you feel pretty good, to spend time with the family when otherwise, you're gone all the time.
Q: What's been your favorite place to drive through?
A: I used to like running through the Carolinas and down into Florida. It's nice country, nice people.
Q: Are New England drivers different from other places?
A: Yeah, there's definitely a difference. New England, New York and New Jersey versus down South? Everyone's in a bigger hurry up here.
Q: How are you feeling about the nationals?
A: I'm excited. I'm going to be competing against 50 other drivers from my class. You get to meet people, talk to them about their jobs, what they do. It's pretty cool.
Q: Do you have hopes for this time or do you care where you finish?
A: I care, yes, but I'm going there comfortable.
I'm going there relaxed. I'm not going there figuring I can beat the entire field. I'm just going there to compete and do best I can and hopefully come out on top.