Merrimack residents recover from storm but without power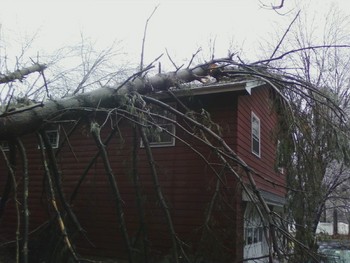 MERRIMACK – Residents here were figuratively frozen in their tracks Friday, as they tried to function without electrical power after the damaging ice storm.
Unlike its big brother neighbor Nashua to the south – where there were pockets of power – Merrimack was in blanket darkness Friday morning. Almost every home and business was without electricity.
Trees fell into driveways, yards and occasionally a house.
A two-story home on 7 Clay Street saw a large pine fall on its roof early Friday morning, causing enough damage to chase a young couple and their three children out.
The family wasn't home later in the morning, but neighbors described the loud crash that symbolized an unusual night.
"I feel bad for them," neighbor Derek Perry said.
Almost every business was shuttered in the morning, including typically busy gas stations and convenience stores.