Merrimack officer works to cultivate relationships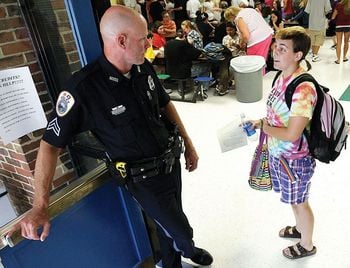 MERRIMACK – It's pretty easy to pick out the black and white cruiser, even amid the parade of bass-thumping cars and groaning yellow school buses.
It's the tail end of August, just one week into the new school year at Merrimack High School. Just after 7 a.m., police officer Mike Murray pulls up for duty.
Not five steps out of the cruiser, files under arm and a Gatorade pick-me-up in hand, Murray is already greeting a teenage girl who's hanging around outside on her cell phone.
After some friendly conversation, Murray joins the throng of backpack-carrying students into the building.
A few minutes later, Murray takes his post outside the school's main office. Students jet through the lobby, toting poster-board projects and cell phones and iPods. Some clump in groups. Some stop to say hi to Murray.
At the bell, they scatter like ants.
"See how nice and quiet it is?" Murray says, surveying the empty halls. "The kids are doing great.
"Of course, it's the honeymoon period."
By that, Murray means the school year is early yet. Students are settling in. Cliques are forming.
He knows his job will get trickier.
This is Murray's eighth year as the school's resource officer. Now, he and a cadre of officers will be establishing a presence at the middle school, too.
Officially, Murray's job is to maintain a safe learning environment for students and staff. That means being all parts security officer, counselor, teacher and law enforcer.
But there's no manual spelling out how to be a good school resource officer. To him, a lot of the real work is done in subtleties.
During busy hall changes, Murray will match his stride to a student's, leaning in to tell a joke or start a chat.
"Mike is always on the go," Assistant Principal Cheryl Smith said.
That day, Murray asks one student about what he's learning in health class.
He asks another if he's behaving.
And when a girl sprints by and up a staircase, Murray hollers, "How'd you do?"
"Good," the soccer player replies. "We won 2-0."
I
t's all about building rapport, Murray says, and establishing connections, stuff that can't be documented in the reports he files every day or the statistics recorded every year.
"I hate it when people say, 'Are things that bad that you need a cop in school?' " Murray says. "It's more about building bridges between kids and police and the whole school community."
That isn't to say he hasn't dealt with his share of more crime-related issues. In his first year, Murray said, he arrested 14 people – including two parents – in his first 40 days.
In the entire last school year, there were 15 arrests.
"I don't know if things were worse back then, or if we were feeling each other out, or if I was full of piss and vinegar," Murray said with a laugh, adding that each school year presents different challenges.
Now, he said, "Ninety percent of my stuff is impromptu. . . . I pull people aside, if there's a conflict, and we take a walk. Disengage. . . . It's important to listen to kids, even if you discipline them or arrest them. You hear them out.
"To me, it's all about getting them ready for adult life and making sure kids get the right message."
Later in the morning, Murray checks in with janitors and lunch servers.
"They see everything," Murray said.
He checks outside doors to make sure they're locked. Eyes the bathrooms to make sure there's no riffraff.
In his office, Murray checks e-mail and discusses what he feels is the school's biggest issue: bullying and harassment. It's a difficult problem to attack, he says, because the claims are often "he said/she said," or can't be substantiated at all.
"It's a typical problem," Murray said. "Merrimack is not a bad school. I think most school cops will tell you the same. There's 1,600 adolescents in a confined, condensed area. Harassment is a part of doing business. I don't see it going away, but maybe we'll find a better way to manage it."
Murray has some thoughts on that, such as classrooms segregated by sex and integrated lunch periods. Lawrence High School in Massachusetts now requires student uniforms, Murray said. On both counts, he has heard favorable results.
"The thing that I was taken aback by was the amount of baggage kids come to school with," Murray said.
"You really kind of adopt them as your own. I come in on Mondays and hope they made good decisions."
You can tell Murray cares about his charges.
Two summers ago, he was asked to speak at the funeral of a student who died in a swimming accident. He recently received a wedding invitation from another former student. It really, really bugs him when he stands on stage at graduation and hasn't before met a student he's congratulating.
So he tries every day to make contact with students. A good time for that is lunch period.
On Wednesday, he chatted with a student about a sports injury, to another about a lost wallet.
It's a busy time for Murray, who fields lots of requests for a conversation.
As Police Chief Mike Milligan described it: "Walking down the halls with Mike Murray is like walking through the mall with Bon Jovi."