Merrimack man helps keep track of town's wildlife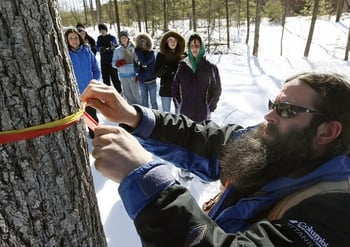 Merrimack man helps keep track of town's wildlife
MERRIMACK – Jeff Littleton knows his crap.
It's a good thing, too, because he's been hired to help Merrimack figure out what kinds of wildlife live in town. And of course, a telltale sign of animal activity is scat.
Littleton showed not a moment's hesitation Wednesday when, while out on a trek with some Merrimack Middle School students, he found a pellet of animal "evidence."
To their laughter and squirms, he picked up the pellet on a crusty raft of snow and exclaimed, "We're getting into scat-ology, right?"
Lucky for him, tracking wildlife involves much more than documenting droppings. Littleton, who owns the Chesterfield-based Moosewood Ecological Services LLC, has been charged with helping the Merrimack Conservation Commission produce a townwide natural resources plan.
Littleton will spend the greater part of the year exploring areas in town to collect an inventory of wildlife and natural habitats. This fall, he will produce a computerized model using the research.
Andy Powell, commission chairman, said his group has never studied Merrimack's natural resources on such a large scale. His hope is that Littleton's work, bolstered by community members' participation, will eventually be added to the town's master plan.
"It helps them be really efficient and maximizes the benefits of conservation," Littleton said. "If you know what you have, you can prioritize these areas of protection."
In the fall, Littleton began studying the state's wildlife action plan, which was helpful as a baseline but relied more on computer work than field study.
This winter, he has spent time exploring areas along the Souhegan, Horse Hill Nature Preserve and Grater Woods. He has recorded signs of deer, fisher cat, moose, red fox, bear, otter, mink, porcupine, coyote and a host of smaller animals, and doesn't think it's out of the question that bobcat might live in Merrimack, or even perhaps the endangered New England cottontail.
But Littleton can't cover all the terrain by himself, which is why he is working with the middle school students and Rick Glatz, who heads up enrichment projects.
On Wednesday, Littleton instructed a group of environmentally minded seventh graders in setting up a transect, a specific sampling area for recording wildlife. They tromped on snowshoes in a 656-foot -long section, now set up just behind the school.
Now they can walk the path, identify and mark down any tracks they see and note any other nearby evidence, such as scratched trees that might indicate a moose has been by.
Glatz hopes to bring the students out regularly to collect data, and spread the word to the school's environmental club members and other students.
"We're happy this is a real push for citizen scientists in Merrimack," Glatz said. "You like to get this stuff to be real for the kids. Real science. Real research."
This spring, Littleton and community helpers will focus on vernal pools and birds. Come summer, it will be time to check out reptiles and plants.
"This is the beginning of a new adventure for the school, and for the town in a lot of ways," Glatz said.
The conservation commission and advocates for Grater Woods also hope residents will take part in surveying public lands and their own back yards. Recording forms are available on the town's Web site under the conservation commission tab.
The commission may also soon develop workshops and nature walks to garner community participation.