Merrimack lawmaker's proposal would keep one exit toll free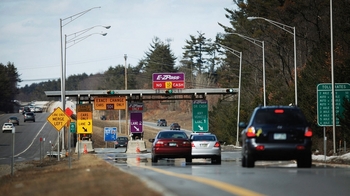 CONCORD – Merrimack's annual pilgrimage to the Legislature for turnpike toll relief was brief and low-key Thursday.
State Rep. James O'Neil, R-Merrimack, told a House panel it's only fair that every town along the turnpike system should have at least one toll-free exit.
All three exits that run through Merrimack on the F.E. Everett Turnpike have ramp tollbooths.
As written, O'Neil's bill would also get rid of ramp tolls in Hampton and Hooksett because tolls are charged at more than one site in those towns, too.
"I am here because you have targeted over time our community,'' O'Neil said.
The original bill would cost the state turnpike account more than $8 million.
"I recognize that in these economic times, the state cannot afford to lose $8.3 million,'' O'Neil said.
When no one from Hampton or Hooksett came in support of their towns, O'Neil offered an amendment to limit the toll relief to Merrimack as the only town with three exits that have ramp tolls.
A state transportation study concluded the state would lose roughly $330,000 a year if it took down the exit ramp toll at Exit 10 in Merrimack.
O'Neil said it would be his preference to get rid of the toll at Exit 11, the Merrimack Industrial Interchange.
Exit 10 is the one to be used by out-of-state shoppers once a proposed, 135-store shopping mall is built, he noted.
"I think those shoppers will be willing to pay 50 cents or whatever the charge is to get into the mall,'' O'Neil added.
BILL AT A GLANCE:
Merrimack lawmakers and town officials have tried without success for more than a decade to get a break on tolls.
Last month, Gov. John Lynch proposed raising tolls throughout the turnpike system but would leave the exit ramp tolls in Merrimack unchanged.
"The governor and DOT (Department of Transportation), I think they have a little conscience there,'' O'Neil said. "They feel Merrimack has been bearing the brunt of this.''
O'Neil said local residents remain upset about their plight and have in the past mounted one-day protests like encouraging the payment of the toll in pennies.
"I couldn't guarantee the people of Merrimack would be happy if you were to pay them to use the highway system,'' O'Neil quipped.
Gary Abbott, a lobbyist with the Associated General Contractors of New Hampshire, predicted one day turnpike motorists will be charged based on miles traveled and this would end discrimination against Merrimack.
"I certainly believe the solution for Merrimack is coming but it's probably 10 years away,'' Abbott said.
Strafford Democratic Rep. James Cyr urged Merrimack to sue as towns in Connecticut successfully did when that state kept tolls in place after bonds were paid off. "You should do the same thing,'' Cyr said.
O'Neil said he's under no illusion about the fate of his bill.
The House of Representatives killed last month a bill (HB 137) to strip from the Executive Council and give to the Legislature the authority to set toll rates.
"You've got to keep fighting the fight or nothing will change,'' O'Neil added.