Merrimack hit hard by ice storm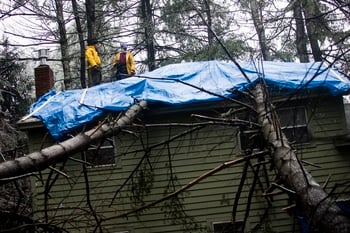 MERRIMACK – On a typical Friday afternoon, Trudy MacLeod would just be getting up after having worked the night shift.
But on this Friday afternoon, MacLeod was outside, wearing goulashes, pajama pants and a hat, trimming branches off a pine tree that crashed across her Farmer Road driveway during the ice storm.
"Outside of being a big mess, it's a little incapacitating," MacLoed said, pointing to a second tree that barely missed crushing her granddaughter's car. "Nobody can leave."
Farmer Road appears to have been one of the hardest hit areas in Merrimack, where officials estimated 90 percent of the town was without power by Friday morning.
"It's like a war zone," marveled one Farmer Road resident, glancing at the downed trees, sagging power lines and wide patches of hail still dotting the street.
Fire Chief Mike Currier described how fire crews were called to Farmer Road at about 2 a.m. Friday to help a woman whose house was damaged by a tree, trapping her inside. The woman was fine, Currier said, but firefighters were stuck on Farmer for another hour while they cleared trees that fell while they were on the rescue.
"For me, we're still trying to get our arms around it," said Police Chief Mike Milligan Friday morning, adding that cleanup and power restoration in Merrimack could take "days and days and days – maybe a week."
Calls for help began pouring into the fire department Thursday night and early Friday morning.
"The transformers were just popping," said firefighter Mark Bickford. "It was like fireworks."
Currier said firefighters handled more than 100 calls, including at least 25 reporting trees into structures. Fifteen households were evacuated because of safety reasons. All residents were able to find shelter elsewhere, either with friends or in hotels, Currier said.
Diane Rancourt and Mike Roth live on Collins Avenue, where two 40-foot pines tumbled into the house they rent just before 3 a.m. Friday.
The couple jumped out of bed and went right to their kids' rooms to make sure they were okay.
"My son had a massive panic attack," Rancourt said. "My daughter thought we were having an earthquake or a thunderstorm."
After moving downstairs to safety, the couple's daughter, 15-year-old Kimberly Fontaine went back upstairs and suddenly stepped in a puddle of water. It was then they noticed the ceiling in both kids' bedrooms had been punctured by a tree branch.
The police department started fielding calls in earnest at about midnight, Milligan said. The department dispatched 23 officers – about four times the usual number on patrol at one time — to handle calls including thefts and requests for shelter.
Officers were also dispatched to direct traffic, as lights were out on Daniel Webster Highway, Route 101A, other major roads and many secondary streets.
By 10 a.m., Currier had set up an emergency operations center at the fire department. There, he and several deputies examined a huge map of the town.
They dispatched four crews to canvass Merrimack to evaluate damage and power outages, which were to be recorded on the map with tags and then reported to the town's public works department and PSNH. As each problem was handled, the map tags came off.
The fire department also used new Web tool to stay in direct contact with the state's emergency headquarters and other communities' centers.
Jim McSweeney, superintendent of Merrimack Village District, said all of the town's wells are down and may be for the next 24 to 36 hours. As soon as electricity is connected to two of the wells, pumps will be back on and the situation more manageable. For now, McSweeney asked that all residents conserve water.