Merrimack high grads tout their film at school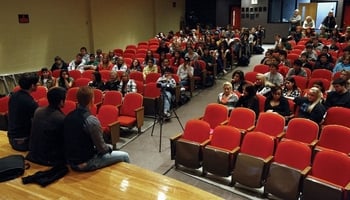 MERRIMACK – They were as close to superstars as they had ever been.
Eric Levy, Mark Demyanovich, Juan Cardarelli and their friends were in Las Vegas for the world premiere of their film.
They were photographed. They stood on a red carpet that had been recently walked on by actress Rosario Dawson. They missed a Britney Spears sighting by a hair.
And the parties. The free food and drinks.
They were, for two weeks in June, certified celebrities.
Friday was a different story, as the three guys stood in the hot-lunch line at Merrimack High School.
This was no Hollywood. For Levy and Demyanovich, this was home.
Levy, 25, and Demyanovich, 26, are Merrimack graduates who returned to share their film, "Happy Birthday Harris Malden," with students and to promote showings at local theaters this weekend.
Cardarelli, 25, tagged along as an actor and member of the film's production company, "Sweaty Robot."
In the cafeteria, Levy joked about how high school memories came flooding back, ironically tying in to the main theme of "Harris Malden."
"It almost brings back the insecurities," he said, laughing and adding that his former teachers showed him a film he made in his Tomahawk days. "I wanted to curl up in a ball and die."
But the past was only part of the visit, and the guys were excited to talk about their present successes with filmmaking.
The whole thing started when a group of five guys at Drexel University, including Levy and Cardarelli, entered a short film competition in Philadelphia.
Their piece about a kid with a mustache beat out several serious documentaries, and they decided to take things a step further. They quit their jobs, poured about $50,000 into the project and filmed a feature-length piece about a character named "Harris Malden" who was badly burned in a childhood accident and spends years hiding his scars behind a mustache.
They shot the film last summer at various locations in Philadelphia, where members of Sweaty Robot now live. Demyanovich, who lives in New York, came on board for a small part.
This past June, the film made its world premiere at CineVegas, an annual film festival in Las Vegas. "Harris Malden" has since been accepted at the Austin and Woodstock film festivals, and the guys continue to spread the word through visits to schools and universities.
Soon, Levy said, the film will be available on Amazon and iTunes, and it is also showing five times in each of the next five days at Cinemagic theaters in Hooksett.
On Friday, the guys – who are now all employed but say they work only to "support their filmmaking habit" – conducted three question and answer sessions with students. The Telegraph then conducted its own with the guys in the cafeteria.
The follow are excerpts from the sessions:
Q: Why Sweaty Robot?
Cardarelli: The name sort of came about, mainly because it sounded pretty cool. There's no real crazy story about it. We were like, "We need a name for this (production company), and it has to be catchy." We thought robots are pretty cool . . . And the sweaty thing, we were kind of nervous-y guys in high school. We still are today – like an insecure robot that can sweat.
Q: How did things go at the festival?
Levy: Vegas was amazing.
Cardarelli: Yeah. You can quote all three of us on that.
Levy: They flew us out there. They put us up in a hotel . . . We had our name up on the marquee outside of the palms. "Happy Birthday Harris Malden." It was insane.
Demyanovich: We walked a red carpet . . . and we were celebrities. I mean, on a much smaller scale . . . You know, I had a very tiny scene in that movie, and there were people that said, "Hey I saw you in that movie and it was really good." And I was like, "Me?"
Levy: It was crazy. There were photographers there, from like, Getty Images, snapping away . . .
Demyanovich: I tried to buy one of the pictures they took because it was really good . . . They had to do a back way of selling it to me because they sell images for press releases and publications. It was the hardest thing for me to get that photo. Then they were like, "Wait a minute: Make sure you don't use it for anything. Give it to your mom."
Q: Do you know if anybody bought them?
Levy: I doubt it.
Demyanovich: I bought it. (Laughter). Um, yes. At least one was sold.
Q: Where did the film play?
Levy: It played in the Palms Hotel and Casino at the Brenden Theatres, which is like the biggest movie screen it's played on . . . It was the first time it played in front of people we didn't know. That feeling, when the movie started, I think I get a little bit emotional thinking about it.
Demyanovich: As an actor it was like, "I want to do this again." . . . It was that memorable.
Cardarelli: I get really nervous during the screenings . . . I just sort of freak out. Almost have a panic attack. I just sort of close my eyes and didn't open them until it was over.
Q: Are you working on any new projects?
Cardarelli: We are writing our next feature right now.
Q: Can you tell me about it?
Cardarelli: It's a little early right now.
Levy: It's a character-driven story . . . We have someone kind of on our side in terms of management now, so we may be able to secure financing for this project instead of paying for it ourselves. All we want is to have filmmaking be our career. That's it. We want to make movies.