Merrimack grad toils to make Iraqis safer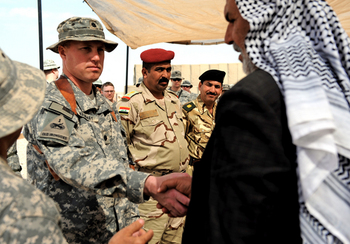 At one time, there was so much violence south of Baghdad that American military forces dubbed the region the "triangle of death."
Those lands, sandwiched between the Tigris and Euphrates rivers, were treacherous because of an unstable relationship between Sunnis and Shiites, and because insurgents reportedly endorsed the executions of police, guardsmen and foreigners in the streets."People here lost so much to al-Qaida," said Lt. Col. Michael Mammay, battalion commander of a 600-member artillery unit that landed there in October. "They were killing people, forcing them to do things they didn't want to do."
But in the past several years, due to U.S. troop presence and a strengthening Iraqi military, the triangle is a much more peaceful place, said Mammay, who graduated from Merrimack High School in 1986.
"You wouldn't recognize it," he said, when asked to describe his surroundings during a telephone interview last week. "If you were dropped down here, you'd think you were in the middle of Iowa."
Mammay, 40, said his troops are stationed on three bases in the fertile river valley. He described being surrounded by small, 10-acre farms growing wheat and barley – not exactly the blustery, desert terrain of most of Iraq.
When his battalion arrived in the fall, they were charged with providing stability and security to local people. Mammay's soldiers took to training members of the Iraqi military, which has a brigade of 4,000 soldiers nearby.
In the beginning, American troops led 90 percent to 95 percent of local security patrols and intelligence missions.
Now, the Iraqis are heading up about 50 percent of them, doing more on their own and nearly single-handedly secured elections in January, Mammay said.
"We were at an attack a week when we first came in October," Mammay said, adding that he considers an attack "anything that involves an explosion."
"We haven't had one in four months . . . We have seen a remarkable progression by the Iraqi army brigade that's here."
In the meantime, Mammay said he's been working with local governments and tribal elders to collect intelligence, ensuring that enemies aren't trying to re-establish posts in the area.
His troops are also providing social services, such as offering classes on drip irrigation systems and making sure water pump stations are working. The next goal will be to refurbish schools and roads, Mammay said.
In all, Mammay said his section of the triangle will be ready for independence from the U.S. military presence as troops gradually withdraw from Iraq under President Barack Obama's plan, which calls for total removal by August 2010.
"I don't know any Iraqis that don't like me and don't like my soldiers," Mammay said. "People here, especially in rural areas, are extremely friendly, very, very respectful and thankful for everything the Americans have done for them. I don't think people in America really understand that: how good the people are and how much they want to work with us. . . . Anything we can teach them, they'll want to learn."
Mammay has been with the Army since his graduation from West Point in 1990. He plans to head back to Germany for a short time, and then travel to Colorado with his family. He'll take a post with another unit.
"I will tell you it's a pleasure to serve in the Army these days because of the amount of support back home," Mammay said. "It makes it a lot easier to do when you know that people are behind you."