Merrimack crash victim mourned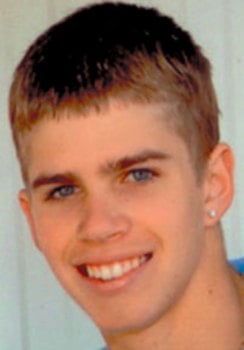 MERRIMACK – Flags fell to half-mast in Maine while family and friends gathered in Merrimack on Monday to remember Matthew Felton, who died this weekend in a car crash.
Felton, 21, was killed Sunday morning with his friend and roommate, 20-year-old Richard Coakley, when a pickup truck collided with their car in Stockton Springs, Maine. The pair was headed back to Maine Maritime Academy in nearby Castine, where they were students.
The school's tight-knit community is reeling with the loss of the two students, said Capt. Jeff Loustaunau, the academy's commandant of midshipmen. With about 800 students on campus, everyone gets to know everyone, but Felton and Coakley stood out, he said.
"They were very likable people, and had a lot of friends," Loustaunau said. "It makes it all that much harder on the community. A lot of people were touched by their lives."Felton, an honor-roll student in Merrimack public schools, also played football for three of his years at Merrimack High School.
He was a quarterback and a safety, but that's not what his coach Rick Urda recalled most.
"His smile," Urda said. "He'd always come off the field with a smile . . . He was a well-respected, well-liked kid. He worked to get better each day and helped his teammates get better each day."
Felton continued to excel academically at Castine, Loustaunau said. Maine Maritime Academy is a public school, and one of only a handful of maritime colleges in the country.
Felton was on track to earn a bachelor of science degree in engineering operations in 2010. That degree would have earned Felton a U.S. Coast Guard license to serve in the Merchant Marines as a third-assistant engineer.
Felton and Coakley were roommates, Loustaunau said. They were in Alpha Company of the academy's uniformed regimental training program, which mirrors that of a military program.
The academy flag will fly at half mast, and the school will hold a large meeting today in which students and staff can express their grief and sentiments, Loustaunau said. The college will consult the Felton and Coakley families before arranging a memorial service for a future date, he said.
A similar tragedy struck the campus last year when an academy freshman was killed in a car accident, Loustaunau said.
"This is not a happy time," he said. "This is about as tragic as it gets."
Close friends were flying back home from across the country Monday, some who gathered at the Felton's home in Merrimack.
Urda said he was shocked by the news, and that Felton's death has deeply affected him and the staff who coached Felton several years ago.
"My thoughts and prayers are with his family," Urda said.
Andrew Bradford, the pickup truck driver, is a Maine Maritime Academy alumnus, who was returning home from the school's homecoming weekend. He was being treated at Eastern Maine Medical Center for multiple injuries.