Merrimack conservationists dip into vernal pools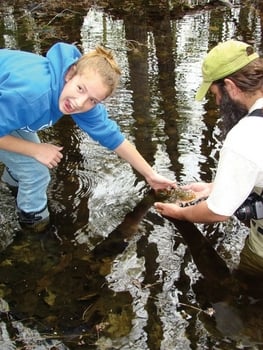 A few Merrimack residents explored the icky interest of vernal pools earlier this month.
The Merrimack Conservation Commission conducted a workshop so participants could learn to locate and evaluate vernal pools for inclusion in the town's conservation plan.
Vernal pools, essentially giant forest puddles, are important habitats and breeding grounds for amphibians, reptiles and aquatic insects.
Jeff Littleton, ecologist and principle of the Chesterfield-based Moosewood Ecological Services, led the workshop, as he is also helping to conduct a wildlife inventory of the town.
He explained the basics of vernal pools to participants and showed them the proper examination techniques. Littleton also showed an egg sac that would yield more than 100 spotted salamanders.
The group then went on an afternoon tour with conservation commission members of what will become an outdoor education center behind Merrimack Middle School.