Meet the Mac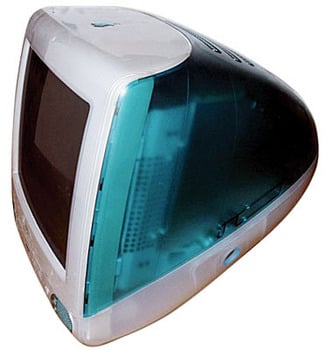 Is it possible to still be cool, to still have an aura, when you're middle-aged and younger family members get all the attention?
That's the question facing fans of the Macintosh computer, which turns a venerable 25 years old today.
"Has the aura gone? No, I don't think so," said Tim Adams of Nashua, who has been part of a Nashua-based group of Mac fans called Southern New Hampshire Apple Core for close to three decades. "It's still a much better machine."
Over in Portsmouth, where a similar group has been meeting at least as long, the silver anniversary Mac is also embraced.
>>Macs, come together<< "I think there's still a huge - I don't know if I'd call it cult - a huge group of people (who are) still interested," said Jeffrey Lynch of the Seacoast Mac Users. On the other hand, a quarter-century of success has definitely diluted the sense of being an underdog. "I'm a Mac user and now nobody really cares . . . nobody makes fun of me because I'm carrying around an Apple machine," he said. The original Macintosh was unveiled Jan. 24, 1984, virtually inventing the personal computer for the masses. But Apple did a crummy job in profiting from it, and the company stumbled for years; "cult" was a reasonable term for Macintosh fans even into the late 1990s, when Apple Computer Inc. was a niche computer firm, happy with a 3 percent market share. Using a Mac was quirky then, like driving a left-hand-drive car, and could be embraced as a badge of iconoclastic merit. But a series of events have changed that image, including: The unveiling of the iPod in 2001 and the iPhone in 2007, which pushed aside the Macintosh as Apple's beacon of technical elegance. Apple's switch to the Intel chipset in 2006, which removed the major technical difference between it and Windows machines. The fading of Microsoft as an all-powerful behemoth in the face of competitors like Google and the open-source movement, because it's harder to be the fan-favorite upstart when the leader starts deserving sympathy. The growing "cloud computing" and "software as a service" industry, which threatens to make the whole idea of desktop computers outdated. These days, with Macintosh's market share nearing 10 percent in the U.S., the not-exactly-cutting-edge Rockingham Mall boasting an Apple Store and the amusing "Mac vs. PC" commercials settling in for a long run, operating a Macintosh isn't quite such a badge of individuality. Perhaps as a result, you'd be hard-pressed to find much in the way of a 25th Macintosh celebration. Nothing public is scheduled locally, not even informal parties by Mac user groups. Apple may unveil a 25th anniversary machine during the Super Bowl, echoing its famous "1984" Super Bowl commercial that launched the original Mac, but nobody expects this machine to be anything startling. Nonetheless, local fans say the Mac still has the aura created by years of superior design. "The more people use the Mac, the more software is developed for it," said Adams. >>Check it out!<< As an example, he noted that Garmin, the leading maker of GPS systems, didn't used to have a Mac version of its maps. Adams had to, grudgingly, use a Windows machine to update his GPS. Not any longer. "The more people that buy the product, the more people there are looking for different software that may not have been available for us previously," Adams said happily. And despite Mac's success, there's still a need to be an occasional evangelist, he said - although perhaps salesman is a better term than evangelist. "People are thinking about it now. They come to me now and then, ask me why I think Mac is a better choice," he said. "I think the iPhone (and) iPod, have drawn more people to think of the Macintosh. People are seeing how really neat the iPhone is, and how easy it is to use, and the iPod the same way, and they're going out and looking at the computer." In Portsmouth, Lynch agreed. "People get exposed to design and usability that's so far beyond what they're been used to . . . they want it in their computer, too."