Medical condition suspected in crash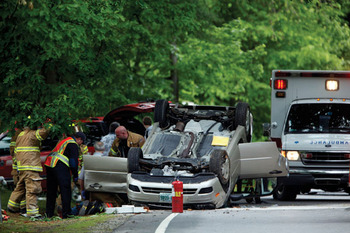 Police are investigating the second rollover in Hudson in as many days.
Officers were called to Webster Street near the intersection with Plaza Avenue around 4:30 p.m. Friday for a one-car accident, according to Hudson Lt. Bob Tousignant.
There they found that Suzanne Gerry, 59, of Litchfield, had gone off the road and up an embankment before her 2006 Ford Focus rolled over, coming to a rest on its roof.
Police believe a medical condition was the cause, Tousignant said. The street was closed briefly while the car was towed from the scene, he said.
Police do not suspect speed, alcohol or other drugs were a factor in the crash. Gerry sustained "very minor" injuries to her hand, Tousignant said.
– JOSEPH G. COTE