Medic prepares for 2nd Iraq tour; family braces to say goodbye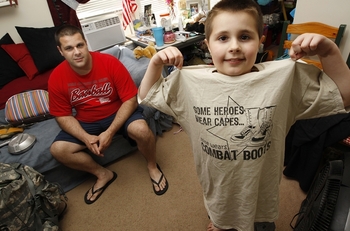 The first time Sgt. Eric Bashor, of Nashua, left for Iraq, his son, Aiden, was too young to understand. Four years later, as Bashor prepares for his second tour of duty, he has to say goodbye to a rapidly maturing 7-year-old.
"The first time was hard, but it is definitely harder this time because he is older and he understands," Bashor said.
Bashor is a member of the 238th Medical Company of the New Hampshire National Guard. His team, commonly called Air Ambulance, flies Black Hawk UH60 helicopters into areas where soldiers need medical care. He also transports medical equipment.
"We have talked to different people over there and they say that Iraq is constantly changing," said Bashor, who first went to Iraq in December 2005. "But our job is always changing, too, because we are dealing with sick and hurt people who need help."Aiden, who was only 3 the first time his father left, has been trying to come to grips with the imminent departure. Although he now understands his father's role, he is still upset at seeing him go.
"I am mad because they are taking away my dad," he said.
Bashor and his wife, Christy, try to shelter Aiden from the hostile images of the Middle East.
"It is nerve-wracking and hard to prepare the little guy," Christy said. "We try not to watch the news so much around him."
Aiden may not get to see all of the images surrounding Operation Iraqi Freedom, but he still worries about his father. "Can you please pray for my dad and all the soldiers, both in helicopters and on the ground?" Aiden said.
Bashor isn't the only one in his family with military connections. Christy is also an enlisted medic with the National Guard in the 368th Engineer Battalion. She could also end up in Iraq within the year.
"Knowing that she could be deployed by the time I come back makes it harder," said Eric Bashor.
Eric's parents, Eilene and Lee Bashor, also of Nashua, provide the support that the family requires. The parents take care of Aiden when the parents are in training or deployment, allowing Eric and his wife the ability to continue serving.
"Every time we have re-enlisted it has been because of those two," said Christy Bashor. "They have always been there to pick up the slack when they have to."
They give constant care for Aiden and provide support for both parents during their repeated tours of duty.
"It is really hard," said Eilene Bashor. "You see on the news what is happening and worry about him, but I am definitely proud that he wants to protect and serve the country."
Sgt. Bashor made his first tour in December 2005, providing service to much of the northern part of Iraq. He is unsure where he will be stationed this time, but he will be helping soldiers throughout much of the middle and southern parts of the nation.
He leaves Aug. 21.
"I am a little nervous because I'm doing a different job than last time," Bashor said. "But I've just been going over my mental checklist, trying to make sure everything around the house is OK with family and finances before I leave."
And thinking about his wife, son, and all the people that help him succeed, is what allows Bashor to go away for a full year.
"Thank you for all the support," he said. "Whether it be friends, family, or even strangers, it is nice to come home to a warm welcome and thanks."