McCain predicts NH victory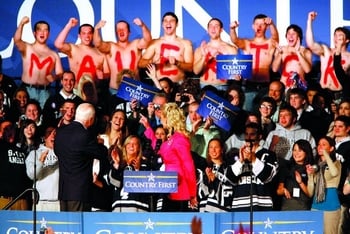 MANCHESTER – A defiant, Republican presidential nominee John McCain said today he's confident he'll confound the pollsters and pundits and win New Hampshire's four electoral votes.
McCain gave a localized version of his stump speech at the St. Anselm College ice arena that had more than 1,000 people in attendance, but was half full.
"I've learned a lot over the years from the people of this state and I know one thing for certain — it doesn't matter what the pundits think or how confident my opponent is,'' McCain declared.
"The people of New Hampshire make their own decisions, and more than once, they've ignored the polls and the pundits, and brought me across the finish line first. I can't think of any place I'd rather be as Election Day draws close than running an underdog campaign in New Hampshire."
McCain mocked Obama for acting "pretty confident'' and said that could cost him support in a state known for close elections and some electoral surprises.
In the most recent independent poll done for WMUR-TV, Obama is leading McCain, 50 percent to 45 percent with the other 5 percent undecided.
The survey of 1,365 registered voters on Oct. 13-19 had a margin of error of plus or minus 2.7 percent.
"As I said, my opponent's looking pretty confident these days. He'll be addressing the nation soon,'' McCain said.
"He's got another of those big stadium spectacles in the works. But acting like the election is over won't let him take away your chance to have the final say in this election.''
McCain is losing one contest here and that's in having limited resources to spend in comparison to Obama who raised a record $150 million, which is nearly four times as much as McCain did last month.
The Telegraph confirmed today that on Tuesday the McCain campaign cut its weekly advertising on WMUR-TV of $100,000 in half for the final two weeks of the campaign.
Other media outlets earlier today reported McCain made the same move in Wisconsin, a state once considered to be a battleground, where Obama now has a commanding lead.
The McCain campaign insisted they had enough money to compete and win against Obama.
"Each campaign is constantly moving strategically, but the Democratic assertions are wishful thinking. We're committed to New Hampshire, as evidenced by John McCain's visit today to the state,'' said Jeff Grappone, McCain's New England communications director.
– Kevin Landrigan