McCain, Obama face off in cash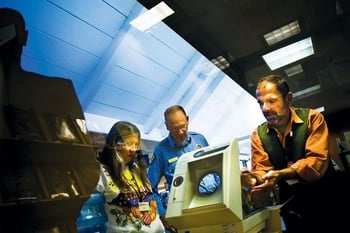 NASHUA – Sens. John McCain and Barack Obama have crisscrossed the country all year, following backbreaking schedules as they try to win over voters.
Yet since summer, the presidential candidates still found the time to stand in the Nashua Public Library lobby and solicit donations.
Well, not the real Obama and McCain – but full-size photo cutouts of them.
And they really weren't taking campaign gifts. Patrons tossed coins into a jug beside their favorite candidate in an unofficial election by donation.
The money will go to the local Humane Society.
In what may or may not be an indicator of Election Day, Obama won the library vote, earning $228.62 to McCain's $110.87.
In 2004, a similar poll correctly predicted New Hampshire's vote but not the national tally: John Kerry beat George Bush, $80.14 to $71.53. That year a jar marked "other" – for Ralph Nader's candidacy and others on the ticket – took in $19.97.
Tom Brokaw wasn't on hand Friday afternoon to describe the McCain-Obama library race. But the late Tim Russert, longtime host of "Meet the Press," would have had fun with his famed white message board in analyzing the count.
Library staff hauled the jugs downstairs to compute the monetary votes in a coin-counting machine. But, in a scene out of Florida's "hanging chad" days, the old counter wouldn't work.
It was a moment that could have drew a gaggle of partisan lawyers and a Supreme Court decision. But staff members kept their cool in crisis.
Library Community Services Coordinator Carol Luers Eyman and Media Service Coordinator Bruce Marks placed the containers on book carts and walked to a downtown bank.
Granite State Credit Union counted the coins in a larger machine. Democracy was saved.