Mayor looks to hold line on taxes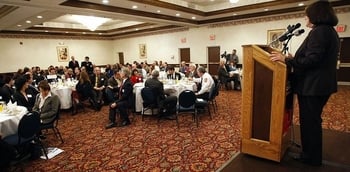 NASHUA – Although "financially sound and full of opportunity," the city faces a series of potential "budget-busting" challenges that may make it hard to hold the line on taxes, the mayor said.
"When it comes to setting the tax rate for 2009, my No. 1 goal is stabilization," Mayor Donnalee Lozeau said in the mayor's annual State of the City address.
Lozeau said she hopes to keep the tax increase to 3 percent or less by holding city departments to a 1 percent budget increase.
"But we're also running up against a hard reality which is: Keeping last year's rate so low may cause a spike in '09," Lozeau said.
Last year the city held its increase in local property taxes to less than 1 percent.
Compounding a potential tax spike, Gov. John Lynch has proposed cuts in revenue sharing, meals and rooms tax revenues and retirement contributions which, combined, add up to a loss of more than $7 million for Nashua, Lozeau said.
The proposed cuts "would equal more than a 4 percent tax increase before we even begin" setting the Fiscal Year 2010budget, Lozeau said.
This was Lozeau's second State of the City address during her tenure. She delivered it twice: on Tuesday evening to the board of aldermen and cable television cameras, and on Wednesday morning at a Greater Nashua Chamber of Commerce breakfast at the Holiday Inn attended by about 155 people.
Lozeau's remarks were better received at the Chamber breakfast, with the business community greeting her with applause and laughing at several jokes included in the half-hour address.
Conversely, a morose board of aldermen greeted the address with stone silence in the City Hall aldermanic chamber the evening before.
Her speech touched on the impact of the faltering state and national economy, a tendency of city departments to isolate from one another and the challenges of settling union contracts.
"Besides the loss of state revenues, we have potential budget-busting expenses that must be reined in or recalculated, including building and infrastructure repair costs, negotiated union salary increases and about $1 million in retirement system costs," Lozeau said.
Another financial challenge facing the city is the impending revaluation, she said.
"We're expecting a decrease in our tax base of 2.4 percent, which will equal $4 million less in tax revenues," Lozeau said.
However, the good news is that the local economy is faring better than the state and national levels, the mayor said.
The city's unemployment rate for December 2008 was 4.1 percent, which is lower than the state and national unemployment rates, she said.
"Nashua's business sector is diverse – that plays to our advantage with all of the uncertainties we're already experiencing in the new year," Lozeau said.
"Our industries range from large defense contractors, high tech and health care to small business, even to the smallest mom-and-pop outfits," she said.
Lozeau, a former state lawmaker and nonprofit corporation manager, said she assumed City Hall's corner office in January 2008 "with a pretty good understanding of city government."
However, she admitted to being "amazed at what I refer to as the 'city of silos,' followed closely by its cousin, the 'language barrier,'" Lozeau said.
"City of silos" refers to the tendency of divisions and even departments within a division to "operate in separate camps," Lozeau said.
"It creates unnecessary barriers to getting things done," she said.
By "language barriers," Lozeau said she meant not including true associated costs in a department budget. She used the school budget to illustrate the point.
"We say it's $86 million, but in reality, it's much more because that number doesn't include employee benefits and other associated costs. Ditto for collective bargaining," Lozeau said.
Lozeau said she wants to replace the silos with bridges. One way is through her cabinet of 14 department directors who meet jointly so that everyone sees the big picture, she said.
Following her address to the chamber, Lozeau fielded questions from the audience.
Chris Williams, the chamber's executive director, asked about possible uses for the federal economic stimulus money the city stands to receive.
While it's uncertain how much the city will get, Lozeau said the city is putting together an application to apply some to its longstanding and costly project for a combined sewer overflow system.
"I don't think you take one-time money and use it to offset operating expenses," Lozeau said.
Paul Johnson of Esp Employee Benefit Strategies asked if some stimulus money could help New Hampshire and Massachusetts create a proposed Exit 36 southbound on Route 3, a project that could improve traffic flow in south Nashua.
Lozeau noted that there is no money for Nashua in the state transportation department's 10-year plan.
"In my dreams, the perfect thing would be to actually fund the circumferential highway, which got mothballed," the mayor said.
Several questions gave Lozeau the opportunity to pitch the need to streamline organizations and operations.
When David Cull of Nashua Special Olympics asked about how the city, local businesses and nonprofit groups might cooperate, Lozeau noted that New Hampshire has 7,000 nonprofit organizations. She said the state should discourage the creation of new nonprofit groups that would compete with existing ones for a pool of limited funds.
Also, Bob Sherman, president of the Nashua Teachers Union, asked about forming a committee to assist in collective bargaining.
Lozeau said she agreed with the concept.
"Do we really need 15 unions? I'm just saying . . . " she added, playfully goading the head of the city's largest union.