Marine debris collection project takes off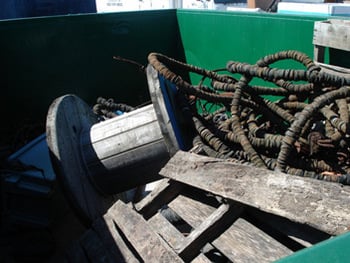 There's a new Dumpster in town, and its marine debris contents will help generate electricity, thanks to a joint venture between Waste Management, Blue Ocean Society and the University of New Hampshire. 
Located at the Yankee Fishermen's Cooperative in Seabrook, the Dumpster — donated by Waste Management — is part of the N.H. Marine Debris-to-Energy Project, which since April has been collecting marine debris, abandoned fishing gear and other items that can harm the marine ecosystem. When the Dumpster's full, its contents will be hauled to a waste-to-energy plant, where the debris will be burned to make electricity.
"The N.H. Marine Debris-to-Energy Project is a successful joint venture between public and private organizations who have recognized the need to mitigate marine debris on the shore, underwater, and out in the ocean," said Jenna Jambeck, research assistant professor in the Department of Civil/Environmental Engineering at UNH. "By looking at the big picture — and taking the time to identify and monitor marine debris — we can gain a better understanding of what makes up ocean-based debris, develop plans to implement a cleanup program, and help create a solution through education and outreach."
Major components of the project include:
• Commercial and recreational fishermen are actively involved in removing "derelict" fishing gear at sea.
• The gear can be placed in the Waste Management Dumpster at the Yankee Fisherman's Co-op, where it will be collected and hauled to a waste-to-energy facility and turned into electricity.
• Fishermen will have ready access to bins to recycle their monofilament fishing line.
• Cleanup along the New Hampshire coastline will expand, involving more volunteers and creating more aesthetically-pleasing, healthier and safer beaches.
"What we have discovered is that derelict fishing gear and other marine debris in the ocean and along the coast has the potential to impact a broad range of the marine ecosystem, from the marine industries that use coastal waterways and beaches to the organisms that reside within them," said Ken LaValley, commercial fisheries specialist with the UNH Cooperative Extension Sea Grant. "Marine debris is a hazard to watercraft navigation and can pose a threat to life and property when encountered at sea. In addition, protected marine species such as whales, dolphins and sea turtles can also interact with fishing gear left behind and other debris which can result in injury or death."
LaValley added that the project "was started to continue the important cleanup efforts and help put a stop to ocean-based debris."
According to Jen Kennedy, director of New England marine awareness organization Blue Ocean, participation by local fishermen "was not a tough sell. It really is a benefit to them and their livelihood to do everything they can to diminish marine debris and keep the oceans as clean as possible. By encouraging them to bring lost gear found at sea, and by locating these Dumpsters and recycling bins at a convenient location, this effort can certainly diminish the debris which is potentially harmful to wildlife, people, vessels and the economy."
According to Kennedy, the project will also provide a collection point for data from beach cleanup volunteers, commercial and recreational fishermen and other users of the coastline to report marine debris. Users of the Web site will be able to generate reports and maps to learn more about marine debris along the New Hampshire coast and in the Gulf of Maine.
Another objective of the project is to better characterize ocean-based debris (e.g., derelict fishing gear) sources and distribution patterns, using underwater sonar to begin mapping derelict fishing gear and underwater debris along the New Hampshire coastline.
"This is the first time fisherman have had a place to deposit derelict fishing gear," added Kennedy. "We certainly hope this project and educational programs developed can be used as templates for other areas in developing data collection procedures and outreach strategies for marine debris reduction."