Maple syrup is 'inn' season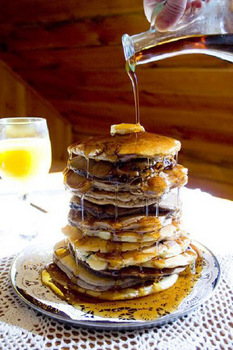 You can tap into something a little different this maple season. Mt. Washington Valley and Lake Sunapee region inns are offering a whole calendar of events in celebration this month of the sweet syrup of the stately maple tree.
• All Month — Riverbend Inn, Chocorua: Taste and discover how local sugar shacks make maple syrup. Watch teams of oxen collect sap, and learn various methods of making syrup at the Remick Museum in Tamworth. Plus, for breakfast, enjoy fresh fruit compote with maple syrup and granola, blueberry pancakes with maple syrup and maple-flavored bacon. Two nights lodging in a deluxe king room are $350 per couple. This package is offered throughout March. For more information, call 800-628-6944 or visit RiverbendInn.com.
• March 21-23 & March 28-30 — Snowvillage Inn, Snowville: Located close to several large maple producers, many of whom will be offering demonstrations on tapping trees and making syrup, the weekend features accommodations Friday and Saturday night, along with dinner on Friday and Saturday night, breakfast on Saturday and Sunday morning and a bottle of maple syrup to take home. Package is $299 per person (double occupancy), $49 for each child 12 and under. For more information or reservations, call 800-447-4345 or visit snowvillageinn.com.
• March 28-30 — Candlelite Inn, Bradford; Rosewood Country Inn, Bradford; Henniker House, Henniker; Highland Lake Inn, Andover; and the Inn at Pleasant Lake, New London: Tour nearby sugar houses and see demonstrations. Take a romantic sleigh ride through the fields of Ragged View Farm (assuming there is still snow on ground — which we'll probably have through May). Each inn will feature breakfasts highlighting maple syrup.
Rates start at $120 per person, double occupancy.
• March 29-30 – Covered Bridge House, Glen; Farm by the River Bed and Breakfast, North Conway; Buttonwood Inn, North Conway; Mt. Washington Bed and Breakfast, Shelburne; and Cranmore Inn, North Conway: All packages include accommodations, daily breakfasts featuring maple products, maple-themed dinners, and tickets to a self-guided tour of the inns where maple sugar sampling will take place. Sleigh rides may be available at some locations. Takes home a nice collection of maple recipes, too. 
• March 29-30 — 5th Annual March Maple Madness: Enjoy a weekend of maple sugaring, treat tasting and scavenger hunting for prizes. Bed & Breakfasts Inn Mount Washington Valley, a consortium of 12 inns, invite guests and residents to join in a scavenger hunt competing for hundreds of dollars in prizes and an inn-to-inn tour featuring maple tastings.
Tickets are $15 per person, and valid for both days from 11 a.m. to 4 p.m. All proceeds benefit a scholarship awarded to a Kennett or Fryeburg student pursuing a further education in the field of hospitality. Bed & Breakfasts Inn Mount Washington Valley, BBInnsMWV.com.
Visit mtwashingtonvalley.org and nhvacations.org for a complete list of packages and details.
The sweet life
New Hampshire is the sixth largest producer of maple syrup in the country, producing over 65,000 gallons in 2007, according to the New Hampshire Maple Producers Association.
Go see where all the action is during New Hampshire Maple Weekend, March 29-30, at one of the state's sugar houses. Visit nhmapleproducers.com for a complete list of sugar houses. Here are just a few:
Belknap County
• Carpenter's Sugar House, 33 Carpenter Road, Barnstead, 603-269-5620
• Fillion's Sugar Shack, 336 Middle Route, Gilmanton, 603-267-6494
Hillsborough County
• Ben's Sugar Shack, 83 Webster Highway, Temple, 603-924-3177, benssugarshack.com
• Parker's Maple Barn, 1316 Brookline Road, Mason, 800-832-2308, parkersmaplebarn.com
Carroll County
• Olkkola Sap House, 30 Walker Hill Road, Ossipee, 603-539-3535, olkkolafarm.com
• Remick Museum Sugar House, 58 Cleveland Hill Road, Tamworth, 800-686-6117, remickmuseum.org
Merrimack County
• Journey's End Maple Farm, 295 Loudon Road, Pittsfield, 603-435-5127, journeysendmaplefarm.com
• Kearsarge Mountain Maples, 954 Kearsarge Mt. Road, Warner, 603-456-2439
Cheshire County
• Railroad Express Sugar House, 9 Townsend Road, Harrisville, 603-827-3245, steven@cheshire.net
• Stonewall Farm, 242 Chesterfield Rd., Keene, 603-357-7278, stonewallfarm.org
Rockingham County
• Anderson's Mini-Maples, 47 Nottingham Road, Deerfield, 603-463-8838, minimaples@juno.com
• Folsom's Sugarhouse, 130 Candia Rd., Chester, 603-887-3672, folsomsugarhouse.com
Coos County
• Bisson's Sugar House, 68 Cates Hill Road, Berlin, 603-752-1298, bissonssugarhouse.com
• Fuller's Sugarhouse, 267 Main St., Lancaster, 603-788-2719, fullerssugarhouse.com
Strafford County
• The Sugar Shack 314 Route 4, Barrington, 800-57-MAPLE, maplesugarshack.net
Grafton County
• Benton's Sugar Shack, 2010 Route 175, Thornton, 603-726-3867, nhmapleoutlet.com
• Bo's Sugar Shack, 900 Streeter Pond Road, Sugar Hill, 603-823-7708, bossugarshack.com
Sullivan County
• Sleepy Mt. Maple, 46 Lempster St., Lempster, 603-863-6863, sleepymtmaple.com
• Valley View Maple Farm, 934 New London Road (Route 114), Springfield, 603-763-5661, valleyviewmaplefarm.com
Source: New Hampshire Maple Producers Association