Many crying foul over possible elimination of sports program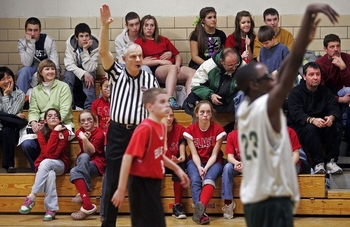 Josh Goulet, a sixth-grader at Fairgrounds Middle School, was disappointed at not making the school's basketball team this winter but thrilled when he was chosen as team manager. Although he wouldn't wear a uniform for games, he could practice with the team and get ready to earn a roster spot next year.
But earlier this week Goulet learned that Fairgrounds might not have a team next year, and that if it does it probably won't be competing against surrounding towns in the Tri-County League.
Under a proposed budget being considered by the Board of Education, middle school athletics – including 10 sports programs at each school – would be eliminated. A new program, still being formulated and likely restricted to inter-city competition, would take its place.
"I was really sad when I found out," Goulet said. "I was really looking forward to next year."Goulet isn't the only one opposed to the new plan. At a Tri-County League boys basketball semifinal game Wednesday afternoon at Fairgrounds, more than 70 city taxpayers signed a petition opposing the elimination of competitive, interscholastic sports.
Among the critics was Fairgrounds Principal John Nelson.
"Having competitive teams has always been good for school spirit," Nelson said. "And we've had a number of kids who have struggled with behavior issues, who have turned their lives around after becoming part of a team."
Stacey Sweklo-Bradley, a Fairgrounds teacher and the varsity volleyball coach at Nashua High School South, also voiced her opposition to the plan.
"As a varsity coach, it's not good at all," Sweklo said, "because the middle schools are our feeder program.
"Since the split of the high schools, we've had to work real hard to gain the interest and momentum for varsity sports. We had 26 freshmen try out this year. If there's no middle school program, we might have 26 freshmen who have never played the sport before."
Athletic director Peter Casey was at Wednesday's game after meeting again with representatives of several youth groups, including the Boys & Girls Club of Greater Nashua, the Police Athletic League, the YMCA and the city Parks and Recreation Department.
Casey believes the proposal, which saves more than $37,000 and meets the required four percent budget cut, would actually increase overall participation among middle school students. He just isn't ready to say exactly what the new plan would include.
"Any time there is change, there's uncertainty," Casey said. "That's why when anyone has taken the time to send me a personal e-mail, I've taken the time to call them and talk about it."
Members of the Board of Education have already expressed reservations about the proposal. The board is scheduled to meet tonight to discuss the budget at 7 p.m. in the lecture hall at Nashua High School North. There is a public hearing on the budget scheduled for Monday night, also in the lecture hall at North.
Parent Tom McDonnell said he isn't necessarily opposed or in favor of the idea, but he is concerned that the decision has already been made without parents having an opportunity to hear it.
"The concern is that this is almost a done deal as this is going forward," said McDonnell, who has a son who plays baseball and basketball and will be a sixth-grader at Elm Street Middle School next year.
Fairgrounds boys basketball coach Chuck Gray's team won its 40th consecutive game Wednesday. It is now one win away from a third straight Tri-County League title.
The Tri-Country League is currently composed of 46 middle schools competing in 11 different sports within divisions based on school population. Many of the larger schools field both "A" and "B" teams in some sports. But Nashua schools have only had one team in each sport.
"From what I know so far, I think it's a short-sighted solution," Gray said. "There's no way you are going to replace the instruction time you get working with a small group six days a week with a larger group meeting twice a week.
"We have 6 a.m. practices on Saturdays, so kids know they have to get to bed early on Friday nights and know what its like to commit to a team."
Josh Goulet is ready to commit. He's just not sure there will be a team he can commit to.