Man has too-close encounter with bobcat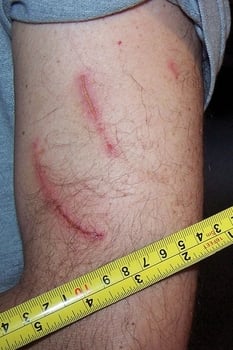 After 12 years of hunting turkeys, Rick Donati has gotten so good at imitating them that a bobcat mistook him for one.
He's got the scars to prove it.
Donati, 49, of Gardner, Mass., is believed to be one of very few people ever attacked by a presumably healthy bobcat.
Attacks by bobcats are extremely rare, and when they do happen, it's usually because the bobcat is rabid, wildlife experts say.
There have been no reports of bobcat attacks or rabid bobcats in New Hampshire, although biologists say the population is rising and spreading here and in Massachusetts.
A rabid bobcat attacked five people in Greenfield, Mass., in 2003, according to Massachusetts Fish and Game biologist Laura Hajduk. Fish and Game spokeswoman Catherine Williams said the department couldn't confirm whether there have ever been any other cases of bobcats jumping hunters. She noted that turkey hunters would be at higher risk, since they strive to mimic prey.
Donati had been out hunting since daybreak on May 9, first in Warwick, Mass., and then on Elliot Hill within the Birch Hill Wildlife Management Area, southwest of Winchendon, Mass.
"I was on the side of a hill. The sun was out; it was an absolutely gorgeous day. I was tucked in next to a stone wall that had some brush along it," Donati said, adding later, "I was in full 'camo' from head to toe. The only things showing were my eyeballs."
Donati could hear some tom turkeys in a field nearby, and he was using his push-button call box, which rubs two pieces of wood together, to make noises like a hen.
"I was playing the lonesome female," he said. "I was doing what you call purring and putting, which is what a hen does when she's content."
He'd been at it for about 45 minutes, and the toms had taken note. He could hear them coming closer.
"So I'm purring and I'm putting away, and all of a sudden, it was like I was hit by a giant sack of grain," Donati said.
One crucial difference: Sacks of grain don't have claws.
"It had snuck up on my left side," Donati said. "He couldn't see me from where he was. . . . He thought he was going to land on a turkey."
Donati didn't think much at all; he was too busy processing the experience. He felt fur against his head and claws on his left arm and in his right ear, and then, he said, "He leapt off of me with such force that he pushed me backwards."
Donati said his first thought was that he'd just been jumped by a coyote. He said he'd been stalked by coyote about five years ago, a relatively common experience for turkey hunters.
"He got to about 40 yards and I let him have it," Donati said.
When Donati sat up, however, he saw a fairly big bobcat – about 35 pounds, he estimates – looking back at him. It would be hard to say which of them was more surprised.
"He got about 10 feet and he stopped and turned and looked at me," Donati said. "It was a beautiful cat, absolutely gorgeous.
"If it had been the season, I would have shot him. I would have tried, anyway."
The seasons for bobcat and turkey hunting don't overlap in Massachusetts (there is no bobcat hunting in New Hampshire), however, so as it happened, Donati came out the worse for their encounter.
Bobcats are fairly common in central and western Massachusetts, but they're reclusive. Donati and his regular hunting buddy, David Peet, 48, of Keene, have been deer hunting for nearly 40 years, and they said they saw their first bobcat just the year before, while hunting in Surry. That one was only about 15 pounds, probably a female, Donati said.
"Normally, you never see them. They see you and off they go," Donati said, adding later, "I could probably go out there the rest of my life and try to call a bobcat and I'd never get another one to come in."
"You can go see a moose just about any day you want," Peet said. "You can go see a bear just about any day you want. You can't do that with a bobcat."
Once Donati got over the initial shock of becoming bobcat bait, he fished out his cell phone and called Peet, who works third shift and was just getting ready for bed. The bobcat had opened deep scratches along Donati's arm and the side of his head.
"He goes, 'I just got attacked by an effing bobcat,' " Peet recalled. "I'm like, OK. I'm waiting for the punch line, and I could hear him breathing really heavy. . . . He said 'I'm bleeding all over the place.'
"After I realized he wasn't joking and there wasn't going to be a punch line, I wanted to find out how badly he was hurt, and I asked where exactly he was."
Donati had to put the phone down to try to figure out where the blood was coming from – his ear, mostly – and he told Peet he'd be able to make it home all right, Peet said.
"It bled right through my shirt," Donati said. "There was blood everywhere."
Donati sounded more agitated than injured, Peet said.
"He was pretty wound up that he couldn't try to go get the thing," Peet said.
Donati walked about a half an hour to his truck, drove out of the woods and headed home to slather himself with hydrogen peroxide and call his doctor.
"When it first happened, I was more mad that he kind of wrecked my whole turkey hunt," Donati said.
Later, he considered what might have happened had the bobcat's right paw landed a bit lower, alongside his neck.
"I was actually pretty lucky," he said. "It could have been serious."
Donati's doctor gave him antibiotics, and vaccines for tetanus, diphtheria and pertussis. After consulting with someone at the Centers for Disease Control, the doctor ordered a round of rabies shots, just in case.
"They considered it an unprovoked attack," Donati said, although he prefers to take it as a compliment to his turkey-mimic skills.
"I guess I've perfected my call," he said.
The rabies treatment starts with four immunoglobulin shots and one vaccination, and then continues for several more boosters. Donati has been careful not to miss any, and he has one more to go, he said.
"They say if you miss one appointment, you've got to start all over," he said.
Online
Mass Wildlife bobcat page:
www.mass.gov/dfwele/dfw/wildlife/living/living_with_bobcats.htm
Bobcat population rising in New Hampshire:
www.nashuatelegraph.com/apps/pbcs.dll/article?AID=/20090404/NEWS02/304049995
Bobcats in New Hampshire:
www.nre.unh.edu/faculty/litvaitis/Research/BobcatWeb/bobcats.htm