Man given 4 to 8 years in car theft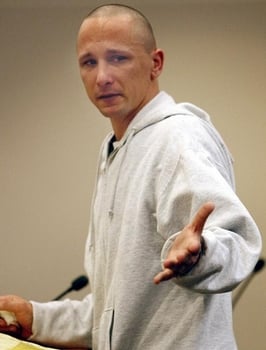 NASHUA – Jason Poloski was addicted to heroin and had plans to score some in Massachusetts. He just needed the wheels.
So, in August, Poloski jumped into a car parked in a Dunkin' Donuts lot at Railroad Square in Nashua and took off, said Assistant County Attorney Michelle Battaglia in court Monday. He nearly backed over someone in the process, she said, and could've harmed two toddlers who were buckled in the back seat.
"The brazenness, the boldness of this is truly, truly horrifying," Battaglia said of the incident.
Poloski, 30, formerly of 8 Abbot St., pleaded guilty to theft and was sentenced to four to eight years in State Prison, along with 7-1/2 to 15 years of suspended sentences for reckless conduct.
That August morning, Nicole Shalek parked her Chevrolet Blazer at the Dunkin' Donuts on the corner of Canal and Main streets. She went inside, leaving her two children – ages 22 months and 10 months – strapped in the back seat under the supervision of her brother, Charles "C.J." Shalek.
C.J. Shalek was behind the vehicle retrieving something from the backseat when Poloski hopped into the driver's seat, Battaglia said. She described Shalek jumping into the back of the car as Poloski reversed, only to get thrown off when he abruptly stopped.
After Poloski drove off, Shalek gave chase but then turned back to the doughnut shop and called police, Battaglia said. Shalek then ran back down Canal Street and a short time later, found his sister's car parked at Margarita's with the children safely inside.
Police caught up with Poloski a short time later on Scripture Street.
Poloski's attorney, James Dennehy, argued that his client is unlike many people who end up in court. He has completed 3-1/2 years of college.
But Poloski has also been struggling for 10 years with a heroin addiction, Dennehy said, adding that Poloski's girlfriend broke up with him a week before the incident, which sent him back into the addiction.
"He went off the deep end," Dennehy said.
However, he added, Poloski didn't drive any further once he realized two toddlers were in the car with him.
"He has a child the same age," Dennehy said. "He realized he's hit rock bottom with this addiction . . . He didn't try to harm the children. He immediately pulled over."
Judge Linda Dalianis asked Poloski why he was pleading guilty.
"Because I want to accept responsibility for what I did," he replied.
Later, Poloski murmured "I'm sorry" to Nicole Shalek, who was sitting in the courtroom, before tearfully addressing the judge.
"It's a lot to speak right now 'cause it hurts so much," he said. "Your honor, I feel so terrible. Being a heroin addict has taken away everything I love . . . I've got nothing. I've got no one. I've got to change my life around."
Dennehy told Dalianis that in January, Poloski was sentenced to two years in State Prison on a drug charge from Rockingham County.
He asked the court to impose a concurrent, two-year prison sentence for the theft charge, with six more years to be served on parole, plus the 7-1/2 to 15 years suspended reckless conduct sentences.
Battaglia rallied for the lengthier sentence, arguing that the incident occurred in a busy area where others could have been hurt.
She also highlighted Poloski's criminal history, including convictions of shoplifting and simple assault in 2007, disorderly conduct in 2006, receiving stolen property in 2000 and selling a controlled drug in 1999.
Nicole Shalek told the court she was satisfied with Battaglia's recommendation.
"I don't think he's a bad person," she said. "I think he just made mistakes."