Man gets Bronze Star 38 years after Vietnam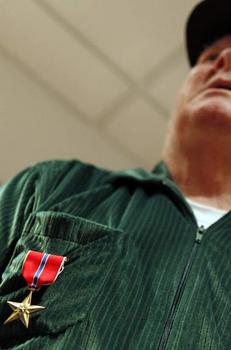 NASHUA – Ed Hannon had long been bothered that he and a band of brothers in Vietnam had never physically received the Bronze Star medal they had been promised.
But it took the death of his daughter to convince Hannon to take action to finally get the medal he had earned.
His daughter, Tina, wanted her father to receive his medal, which a clerical error had prevented him and five or six other servicemen from receiving in 1971.
"Dad, why don't you write to the Army or call the congressman?" she would urge.
Tina M. (Hannon) Phillips, who suffered from lupus, died at age 42 at her Nashua home July 6, 2007.
After her death, Hannon resolved to take action to get the medal because that's what his daughter wanted for him.
Tina's wish for her father came true Thursday, as Hannon, 68, was presented the Bronze Star in a ceremony at the Nashua office of U.S. Rep. Paul Hodes.
The Bronze Star Medal is awarded for bravery, acts of merit or meritorious service. When awarded for bravery, it is the fourth-highest combat award of the U.S. Armed Forces and the ninth highest military award, including combat and non-combat awards.
Hannon earned his Bronze Star for meritorious service in a ground operation in Vietnam on July 1, 1971, according to a spokesman from Hodes' staff.
Though proud of the honor, Hannon said he doesn't like to talk about the war.
"I really don't like to talk about these things," he said.
"I'm proud of this," he said of being awarded the medal. "I'm not proud of what I had to do to get this. I lost quite a few friends over there."
Hannon was in the military police with the rank of staff sergeant when he retired in 1980. He had served in the Army since 1958, first in tanks and artillery before becoming an MP.
At 6:30 a.m. on Aug. 15, 1971, he and five or six other MPs were summoned to a basketball court on a military base at Vinh Long. There, a brigadier general awarded each a certificate for earning the Bronze Star, Hannon said.
The servicemen were told they would soon receive the medal, he said.
However, due to a clerical error, the medal never arrived, according to Hodes' spokesman.
Hannon, a native of Avoca, Pa., who has lived in Nashua since retiring from the Army, was in the congressman's Nashua office on another matter when he mentioned the medal.
Laurie Goodman, who works out of that office, went to bat for him, Hannon said.
Hodes contacted the defense department, verified that Hannon had earned the medal and worked so that Hannon would receive his Bronze Star at last, though 38 years overdue.
Hannon's wife, Joyce Hannon, 64, of Nashua, and their son, Michael Hannon, 44, of Weare, witnessed the medal ceremony in Hodes' Main Street office. So did Hannon's granddaughter, Angelia Phillips, who is Tina Phillips' daughter.
Going overseas seven times during his 22 years in the military was tough on the family, and Hannon credits his wife for holding things together, especially during the Vietnam War.
"If it wasn't for her, I never would have made it," Hannon said.
As for receiving the Bronze Star, he said, "I thought I was kind of forgotten. I'm proud that it finally came through. I did risk my life through two tours of duty."