Man calls city on growing cell phone tower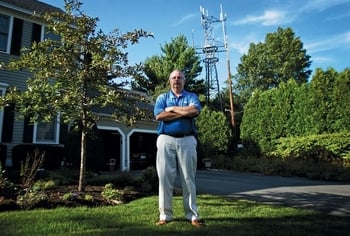 It's bad enough that 13 feet of metal was added to the top of a nearby cell tower shortly after Steve Dickson and his family moved into their 31 Columbia Ave. home, he said.
On Tuesday, workers showed up to increase the already massive width of the tower by laying down a cement slab. It was then Dickson learned that six antennae would be added to the cell phone tower without neighborhood residents being notified. This is to a tower that, if it fell, could easily take out the garage attached to his home.
Drive around the city, and you'll find nothing with that much energy so close to a neighborhood, Dickson said.
He's concerned that the tower is being expanded without a vote from a zoning board, a public hearing or neighbors even being notified.
That's because an administrative decision allows the tower to be expanded through the planning director's signature, Dickson was told.
Under the city code, minor changes or expansions to an existing site can be made with only a signature.Dickson doesn't consider the change minor.
"Does anyone know how safe this stuff is?" he asked.
With the tower just feet from his home, he worries property values will plummet in this upscale neighborhood just south of Greeley Park.
"I want to appeal this. How can I appeal an administrative decision?" Dickson said.
Dickson said he got that answer through Patricia Rogers, the citizen's services director who works in the mayor's office.
Rogers was helpful in pointing out the appropriate city law and process for filing an appeal.
With that information, Dickson said he plans to file a letter with the city Monday, requesting that the zoning board of adjustment hold a hearing on the tower expansion.
The issue Dickson said he'll raise is how the expansion would hurt property values in the neighborhood, particularly if the tall trees surrounding the tower are removed.
At first, Dickson hoped to meet this week with Roger Houston, the city's planning director. It was Houston's signature that gave the expansion the green light, Dickson was told.
But then Dickson reconsidered.
"We wanted to make sure we had our ducks in line and t's crossed" before meeting with the director, Dickson said.
Houston said Thursday that the expansion to an existing tower is allowed under city ordinances.
No height is being added to the structure, he said. Instead, "an array of antennae" is being added, he said.
Dickson said he doesn't blame Houston personally. He just signed on to what he thought was a minor change, Dickson said.
"It's not malicious. But the decision was made so blindly," he said.
The tower sits so close to his property because it's grandfathered in, Dickson said.
It's located on land owned by Pennichuck Corp., near the former site of a water tank.
Dickson and his family moved into his home in November 1996. The following January the tower was expanded upward. The previous owner neglected to tell Dickson that the expansion had been approved, he said.
Less than a year after that, AT&T asked to expand the tower even more. Neighbors objected at a zoning board of adjustment meeting, and the request was denied.
Pennichuck later sold the property that the water tower stood on and divided it into two and a half lots. Two houses were built on the two lots and the half lot was reserved for the existing cell tower.
Subdividing the land that way essentially put the tower as a buffer between Dickson's home and the new home built to its right, facing the street.
The tower is now owned by Sprint, Dickson said.
Dickson has contacted Michael Tamposi Jr., his Ward 3 alderman, plus all six aldermen-at-large.
It was Tamposi who put him in touch with Rogers, Dickson said.