Man, brother charged in paving scam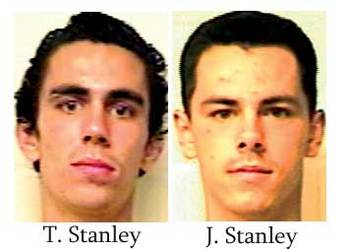 Only nine days after Nashua police charged Joseph C. Stanley with swindling two elderly residents in a driveway paving scam, the 19-year-old was allegedly caught in Connecticut pulling the same ruse with his brother.
Earlier this month in Monroe, Conn., Stanley and his 20-year-old brother, Thomas A. Stanley, were charged with paving driveways without proper documentation and failing to follow business protocol.
An off-duty Stratford, Conn., police officer spotted the Stanleys and Merrimack resident Wallace J. Wilson driving a dump truck in Monroe on July 9, police charge. The officer noticed the Peterbilt truck matched the description of a vehicle at the center of an investigation by his department, police charge.
Monroe police officers later found the dump truck and a Ford pickup outside a home and caught the Stanleys and 46-year-old Wilson paving a driveway, police said. The officers also saw a freshly paved driveway next-door, police said.
Joseph C. Stanley gave Monroe police a Londonderry address of 2 Devonshire Lane, which differs from the Nashua address of 32 Yarmouth Drive he gave to Nashua police after his June 30 arrest.
Joseph C. Stanley and Thomas A. Stanley are no longer in custody after each posted $75,000 bail, Monroe police Lt. Brian McCauley said. Wilson, of 8 Gail Road in Merrimack, is still being held on $25,000 bail, he said.Joseph C. Stanley is slated to appear in Nashua District Court this morning on felony theft by deception charges.
Nashua police allege that last month, Stanley paved the driveway of a 94-year-old woman without her consent and drove her to the bank, where she withdrew $3,000 for the job because she felt pressured. And an 84-year-old man was pressured into giving Stanley $3,900 for a driveway job after they had agreed on a $300 payment, police said.
The Stanleys and Wilson allegedly used the same tactic in Connecticut that Joseph C. Stanley is charged with employing in Nashua: telling people he had spare asphalt from a paving job nearby and could tar their driveways for a low price.
The Stanleys and Wilson performed substandard jobs on driveways in Monroe or didn't finish some jobs, McCauley said. They accepted cash for these jobs and broke the law by lacking state home improvement licenses and trade name certificates and failing to provide customers with necessary cancellation notices and related paperwork, he said.
Police in the nearby Connecticut towns of Stratford, Manchester and Shelton are investigating similar scams by the Stanleys and Wilson, McCauley said. "Unfortunately, in this day and age it happens," McCauley said. "If it sounds too good to be true, it is."
Nashua police Capt. Scott Howe said his department is investigating residents' complaints of similar paving scams involving Joseph C. Stanley and individuals with the Stanley family name or company names used in other ruses.
Joseph C. Stanley is associated with at least one local paving firm, CVS Paving, court records show. But there are at least 20 paving companies in New Hampshire that carry the name Stanley or are owned by people of that name. Stanley listed Stanley Paving as his employer in a Nashua police booking report, even though court records show he is associated with CVS Paving.
If Stanley lives at Yarmouth Drive, as he told Nashua police, he shares a residence with Cornelius V. Stanley, owner of CVS Paving. He listed his father as "Neil Stanley" with police, but it's unclear whether he and Cornelius V. Stanley are related, or if "Neil" is short for "Cornelius."
Thomas A. Stanley gave Monroe police an address of 58 Route 125, in Kingston. Public records show that Cornelius V. Stanley once had that address.