Lynch offers endorsements of candidates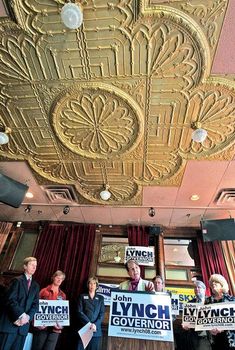 With the election less than a month away, political candidates are in the mood for endorsements.
On Friday, Gov. John Lynch endorsed two fellow Democrats in their state senate bids, and received two endorsements for his own re-election bid.
Lynch stopped by Martha's Exchange restaurant in Nashua to voice his support for Hollis resident Peggy Gilmour and state Rep. Bette Lasky, a Nashua resident, as they seek to win the districts 12 and 13 Senate seats, respectively.
Gilmour faces former state Rep. Paul LaFlamme, R-Nashua, and Lasky is running against Nashua Board of Education member and Republican Sandra Ziehm.
Earlier in the morning, Lynch got the endorsement of the local Teamster union at a ceremony held at the UPS depot in Nashua. He later traveled to Concord, where the New Hampshire State Troopers Association gave him the nod.
Lynch faces Republican Joe Kenney in the gubernatorial race.
Meanwhile, U.S. Rep. Paul Hodes, also a Democrat, received the endorsement of the National Committee to Preserve Social Security and Medicare.
The organization said it backed Hodes for his opposition to privatize Social Security.
>>>N.H. Campaigns 2008
Hodes' election opponent, Republican Jennifer Horn of Nashua, hasn't technically said she would privatize the program, but has said she would like taxpayers to have the option to invest their Social Security earnings.
Rounding out the day, the U.S. Chamber of Commerce announced its endorsement of U.S. Senator John Sununu, who is running against former Governor Jeanne Shaheen.
"John Sununu will continue to be a champion for the people of New Hampshire and an invaluable leader on important business issues," said Bill Miller, the U.S. Chamber's senior vice president and political director, in a prepared statement.
"The Chamber believes he will be an effective legislator and supporter of businesses of every size if re-elected."