Lozeau trying to keep 'ship steady'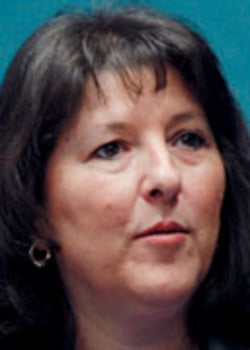 Nashua Mayor Donnalee Lozeau admitted Monday it would be a challenge to hold increases in city spending to 1 percent without cutting services.
"I hope so. I don't know that to be the case for certain," Lozeau said when asked if city spending could be held to a 1 percent hike without putting services at jeopardy.
"My priority is, keep the ship steady. Don't give another blow to people who can't afford it," she said.
While city departments are accustomed to hearing that times are tight, the nation's economic crisis has brought that reality home, Lozeau said during a meeting with The Telegraph's editorial board.
The meeting was scheduled before Lozeau delivers the mayor's annual state of the city address at a Greater Nashua Chamber of Commerce breakfast. She is scheduled to give the address at 7:30 a.m. Feb. 18 at the Holiday Inn.
In her discussions with The Telegraph, Lozeau touched on city spending, negotiating collective bargaining agreements, the city's priorities for economic stimulus money, the Broad Street Parkway and other topics.
One area that Lozeau wouldn't comment on, however, was the city's efforts to acquire Pennichuck Water Works. Lozeau said she could not comment at all on Pennichuck, other than to refer to an earlier press release that the city has hired consultants to help with the acquisition.
Before ruling in the city's favor last summer, the state Public Utility Commission halted eminent domain hearings as the city and Pennichuck Corp. attempted to work out a deal, potentially a stock purchase of the company.
However, those negotiations collapsed, the hearings resumed and the PUC ultimately sided with Nashua, setting a purchase price of $203 million plus an additional $40 million for two small, related utilities.
Although Pennichuck is in the process of appealing the ruling, there is wide speculation that the city and water utility have resumed closed-door negotiations.
Much of Lozeau's discussions Monday focused on the challenge of putting together a budget during tough economic times.
"It's nice to talk vision, but people are concerned about where we're going, what it's going to cost them, how that's going to play out," she said. "So my priority is to not cut services but still stay within our means."
While the city's spending cap would allow up to a 3.4 percent increase, the mayor has asked city departments to come in with increases of no more than 1 percent plus a list of priorities if more money could become available through increased state aid, higher-than-anticipated revenues or some other source.
With some departments, most notably the school district, approving new employee contracts with 3 percent pay hikes, holding the line to a single percent will be difficult, Lozeau said.
The school board submitted budget of just over a 2 percent increase, with a list of items to pare to get it down to 1 percent.
"I was pleased that the school came in at just over 2 percent. I know that was hard for them," Lozeau said.
With middle-school enrollment decreasing, Lozeau doesn't believe teachers would have to be laid off to meet budget parameters.
She also said city department managers understand why she is asking for budget requests well below the spending cap.
"Although our unemployment rate is stronger than in many areas, people are hurting. It's hard for anybody not to see that," Lozeau said.
A tax rate increase of less than 1 percent last year could have set the table for a spike in the tax rate of as much as 6 percent this year, Lozeau said.
She said it's her job to stabilize the tax rate.
"It's probably reasonable to get a tax increase of less than 3 percent," Lozeau said.
The city's finances are sound, she said.
"Compared to many communities, we're solid. We're in good shape financially," she said.
That is because of good decisions, such as keeping $28.7 million in the undesignated fund balance for tax stabilization, Lozeau said. That amount represents 12 percent of the city budget, she said.
Still, it will be tough to balance such priorities as setting aside money to maintain buildings, purchase vehicles or to improve snow removal from sidewalks, which has been a hot-button topic this winter, the mayor said.
"We have a group of people that are very unhappy, and they should be. We have done a very poor job being able to maintain city sidewalks," Lozeau said.
The city has more than 200 miles of sidewalks, and only four sidewalk plows plus one owned by the school department. The sidewalk plows break down frequently, city workers have said.
The difficulty for the city is that the equipment costs from $60,000 to $130,000, and the same workers who plow city streets are the ones who operate the sidewalk plows, Lozeau said.
The mayor said she has pulled together a group to explore such questions as, "What can we do for the remaining six weeks this year, and what can we do differently next year? What role can the different departments play in getting the job done?"
As for the sought-after federal economic stimulus dollars, the city has taken a different approach from other New Hampshire towns and cities, Lozeau said.
She asked U.S. Sens. Judd Gregg and Jeanne Shaheen and U.S. Rep. Paul Hodes about their priorities for the state, and aligned Nashua's priorities with categories for the state's priorities.
Those categories are roads and bridges, energy and efficiency, sewer and water system upgrades and neighborhood revitalization, including downtown.
Lozeau said she hopes some stimulus money could help pay for the Broad Street Parkway, a cross-city roadway that would include a second downtown bridge over the Nashua River.