Loved ones recall teen's life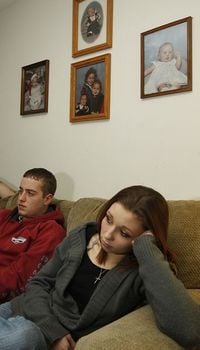 NASHUA – Jared Osterman wasn't perfect. He had his flaws and made his mistakes, but as far as his family knew, things were looking up before the day the 17-year-old killed himself by overdosing on painkillers.
Osterman's mother, Jennifer, spoke about her son's death, in part, because she's worried about her son's friends, and other teens, especially during the holiday season.
Suicide accounts for more than 12 percent of the deaths for people ages 15-24, according to the Centers for Disease Control and Prevention. In 2005, the last year hard data was available, more than 32,000 people committed suicide, according to the CDC.
In 2007, almost 15 percent of high school students reported considering suicide and nearly 7 percent said they had attempted it.
Osterman's family and friends said he was a fun-loving, eminently helpful person with wide-ranging interests. He liked video games like "Halo" and "Final Fantasy VII," playing Dungeons and Dragons, and Magic: The Gathering card game. He was a fan of rock music, deep-sea fishing and, especially, the New England Patriots.
He was a good writer, his sister Chelsea Osterman said. He loved cooking and singing but was terrible at both. His family members laughed as they remembered hearing him singing from his room upstairs while he wore headphones.
Suicide warning signs
Mostly they remembered his hugs and his compassion.
"He would do whatever you needed to help you get through whatever it was you were going through," Chelsea said. "He wouldn't mention his own problems. He would just listen to you ramble on and on."
"He was a real genuine friend," said one of Osterman's best friends, Matt Shepherd. "I'm just happy I knew someone like that. I love him. Pretty much, that's just how I can describe it. A good man."
Osterman's father, Mark Osterman, described him the same way.
"He was a very good kid. Very smart and also very confused, obviously," he said. "He had a lot of potential that he didn't see. I don't know what else to say about him. He was a very good kid. Unfortunately he just, I don't know, gave up."
One thing Osterman didn't like was school. He skipped school – a lot. Often enough, in fact, that he got to know Nashua High School South School Resource Officer Peter Forgione well enough that Forgione attended his wake.
"That's so typically Jared, isn't it," Jennifer said.
He began his junior year at South but at the end of September moved to Hicksville, Ohio, to live with his aunt.
"He wanted a fresh start," Osterman's sister, Courtney Osterman, said.
The fresh start seemed to do the trick. Jennifer said he was getting good grades at Hicksville High School and making friends.
"He took to it like a duck to water out there," she said.
She talked to her son at the end of October and gave him the reservation information for a train ride home for a 10-day visit. He was excited about it.
"He was in such a good mood He was thrilled with that," Jennifer said.
But Oct. 27, Osterman put nine Fentanyl patches on his body. His aunt had them in the house to ease the pain of a back injury. Osterman knew what they were, Jennifer said, because she has used them because she has chronic pain syndrome.
It was too late when he was found in his room that night. He died around 8:30 p.m.
It's getting a little easier to move on for Osterman's friends and family.
"It was hard at first. I can actually look back now and smile about things and not be upset," Shepherd said. "Part of me wanted to be angry at him, but there's nothing you can really do. Once I realized that, I was able to just be happy that I knew him."
"I'm mad," Jennifer Osterman said. "We've all been pissed at him. He cut me out of a daughter-in-law and grandchildren and I'm PO'd at him about it. I'm getting there. Very slowly."
As hard as it is, Jennifer said she hopes speaking out about Osterman's death can help someone else.
"Maybe one person will read this and say 'My son or daughter is acting differently' and maybe they'll talk to them and maybe they'll get help," she said.
Jennifer is also hoping for people to help pay for a marker for Jared's grave at the Woodlawn Cemetery on Kinsley Street. She's struggling to pay bills.
Jennifer wasn't prepared for Jared's death financially. The funeral, and flying Jared home from Ohio, has been almost impossible with her $700 disability check.
"We were thinking of 'Rock Band.' We weren't thinking of insurance," she said.
Since she can't stand up for an extended amount of time, Jennifer wants to get a memorial bench for Osterman's grave, something that will mark his place and make it possible for her to visit him from time to time.
Mark Osterman is also struggling financially and said he owes more than $6,000 for funeral expenses.
"He's in a grave right now without even a marker on it," he said.