Loss of his father drives Litchfield senior to succeed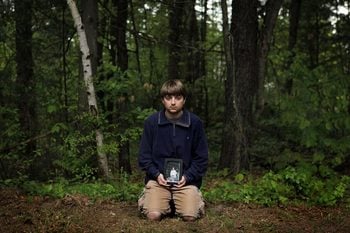 EDITOR'S NOTE: This is the third in a series of profiles of graduating seniors from area high schools.
LITCHFIELD – Like most teens around town, Josh Horman was wiling away the final hours of summer break on that particular Tuesday, his mind occupied mostly by the mix of apprehension and preparation that comes on the eve of the first day of school.
Josh was 16, all set to start his junior year at Campbell High School. The only child of George and Carol Horman, he was a toddler when the family moved to Litchfield. He'd gone to Presentation of Mary Academy in Hudson through eighth grade, and transitioned just fine to public school life at Campbell.
George Horman wasn't a well man. He'd battled one malady after another for most of his 46 years. He had Crohn's disease since his teen years, complicated in recent years by severe arthritis in his back and knees. Pain was a constant companion.
Still, George forced himself to do things. He'd rarely miss work, ignoring his pain to provide for his family. For George, 40 hours was a short week, no matter his level of pain.
Josh was upstairs, straightening up his room, when his mom announced she was heading out for a couple of errands. She'd be back in a bit, she said. George was where he loved to be – out in the garage tinkering with one thing or another. Little projects helped ease the pain, if only temporarily.
Suddenly, a sharp, loud popping sound startled Josh. It seemed to come from the back of the house. Josh raced downstairs and out the back door, then skidded to a stop.
"I saw part of my dad's torso through the bushes, right over there," Josh said recently, pointing to a spot where landscaped yard turns to thicker, forest-like growth.
"I knew I didn't want to go any further. I was pretty sure I knew what happened."
Numbed by the rush of horror and disbelief, Josh instinctively whipped out his phone. First 911, then Mom, who was just leaving the drugstore.
George Horman had had enough of the pain and discouraging diagnoses. It all came to an end that day, an instant after George pointed his shotgun at himself and fired.
But for Carol, and especially for Josh, the moment marked the beginning of an impossibly difficult stretch of days, then weeks, that threatened to derail a young life and send it plunging toward darkness.
"I was in la-la land for days," Josh remembers. Family and friends raced to his and Carol's side. "It was all so surreal . . . then I was angry. Very angry," Josh said. "I still am, a little."
School started without Josh. And Carol's new job, which she was supposed to start that same week, had to wait for her.
Josh delivered the eulogy at his dad's funeral, telling how he'd always put his family first and made a priority of instilling values in his coming-of-age son. Josh spoke also of faith, and its vital role in "getting me through everything."
Josh and Carol met with Campbell administrators and staff one day after the kids had left. Josh's eyes brighten with the memory.
"They were incredible," he says. Some of my teachers, the school nurse, they just grabbed me, hugged me, and started crying . . . they were so kind.
"I couldn't have asked for better support."
School counselors strongly suggested that Josh start therapy, which, he and his mom said, would have happened – except for one detail. With George gone, and Carol's new job a no-benefits contract position, there was no insurance.
Still, Josh fared pretty well, all considered, when he began school a couple of weeks later. "I had my episodes, but it was mostly going OK," he said.
But as those who have been there know too well, life after trauma must get worse before it gets better.
"There were days I'd throw everything down and just say, 'that's it, I can't do this anymore,' " Josh remembers. "I couldn't concentrate. I couldn't handle much of anything . . . I felt so stressed out all the time."
He began having panic attacks, those cruel, inner convulsions of terror and despair that strike whenever they please.
Sometimes, he said, he'd just up and walk out the door. "I didn't know where I was going, it didn't matter . . . I was trying to get away from everything but couldn't," Josh said.
The happier days of a year before, when Josh was a councilor in PMA's after-school program as part of his sophomore community service project, now seemed so far away. His budding desire to become a teacher had soured, and life seemed to be on hold, stalled in neutral.
At last, as winter slowly morphed into early spring, Carol and Josh were able to get health insurance. Josh's new counselor diagnosed, and began treating, Josh's PTSD. Gradually, the clouds began to break.
Josh's junior year ended a whole lot better than it started. "The (panic) attacks were fewer and fewer, and I was feeling a lot better," he says.
By the start of his senior year, Josh's inspiration to teach had returned. For his senior project, he designed a program where he'd go to class for a half-day, then zip over to PMA to student-teach American History to 7th and 8th graders – alongside the same teacher who, when Josh was a 7th-grader himself, recognized his potential and encouraged him to become a teacher.
On Friday, Josh will be among the gown-clad teens ready to close one life's chapter and move on to the next when Campbell High passes out diplomas amid speeches, cheers and tears. They'll have gotten there over different roads, some hillier and bumpier than others; some that seemed a lot longer than they expected.
At least one, though, can look back with a smile of satisfaction, and maybe a bit of relief, at having found the perseverance and courage to conquer, then make peace with, the treacherous route he was suddenly handed some 20 months ago.