Locals enjoy weather respite by dashing through the snow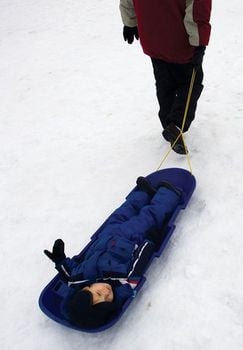 Roby Park in South Nashua was the site of lots of wintry fun Friday afternoon as folks enjoyed the crisp air and a brief break from the lousy weather of late.

Sledders and snowboarders alike flocked to the hill to enjoy the snow
before temperatures rise over the next few days.
The National Weather Service is predicting temperatures to rise to the mid-50s by Sunday with afternoon showers.
Recent warm temperatures and rain put an icy glaze on the hill which allowed sledders and snowboarders alike to launch themselves down the hill at high speeds.