Local shoppers battle crowds, early hour for holiday deals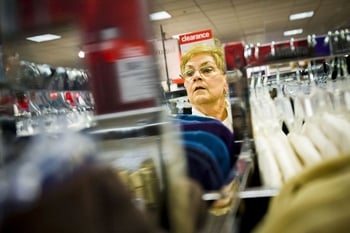 NASHUA – Alysha Carkin recently broke her foot in a car accident. She wears a bulky cast and gets around in a wheelchair.
But that didn't stop Carkin, of Pepperell, Mass., from rolling out of the house with her sister Meggan at 4 a.m. to endure – or enjoy – their first Black Friday.
"We wanted to experience it," Carkin said while waiting for his sister outside Claire's Accessories in the Pheasant Lane Mall. "We've never been."
Hundreds of shoppers of all experience levels navigated their way through Nashua's Pheasant Lane Mall on Friday morning to see if a reeling economy would help them cash in on some early holiday cheer.
The Pheasant Lane Mall opened at 5 a.m., with stores like JCPenney and the Disney Store starting at 4 a.m., according to mall General Manager Vin Cosco.
So far Cosco hasn't seen any reason to believe that the economic turmoil will have a crushing effect on holiday sales.
"When I drove in at 4:30 a.m. this morning," Cosco said, pausing to drink from a large coffee mug, "there was a line of people just waiting to get into JCPenney . . . The early-bird special has definitely stretched out longer than last year."
That line was a comforting sight for JCPenney Store Manager John Cappa.
Cappa, who has been with JCPenney for 25 years, said the Nashua store had a 17-percent increase in sales during the first hour of business compared with Black Friday 2007.
"We're busy, but it's been good," Cappa said. "We're on pace with where we were in 2007, which was a record for this store."
But, as Cappa spoke with The Telegraph just after 8 a.m., he noticed a lull in foot traffic and anticipated that the store probably won't match its 2007 numbers.
Some customers aren't buying into the idea that discounts this year will be better than previous Black Fridays.
"You come with expectations and maybe you get a few good deals," said North Chelmsford, Mass. resident Kathy Martineau, who was waiting in line outside the Disney Store on the second floor with her daughter. "Maybe you pay $9 instead of $12 for something."
Suzanne Rackett said the discounts she found Friday are on par with previous post-Thanksgiving Day sales.
"The deals are about the same," said Rackett, of Hudson. "I don't think they're any better to get more people in."
Cosco believes that, despite the economy, people will make adjustments around the holidays.
"People want to keep things normal around the holidays," he said. "I think you'll see a lot of people buying less for themselves and more for kids."
Self-titled Black Friday veteran Jean Basile predicted that shoppers will be more selective with their purchases.
"I think people are going to pick something that they definitely want," Basile, of Stoneham, Mass., said.
"There won't be any filler presents this year."
Basile was sifting through sweaters on the second floor of JCPenney with her daughter, Lisa Coppola. Coppola said that Black Friday with her mother has become a tradition in itself.
"Just being with her is great," Coppola said.
"We shop, grab lunch, and then we'll use all of the leftovers to have a second Thanksgiving dinner tonight."
The Black Friday tradition typically includes long lines at the register, but, although there was a brief wait in some stores, Suzanne Rackett said the customer turnout was the only thing different about this year.
"Last year you could barely walk into stores and today I'm pushing around a carriage full of stuff," she said, nodding to the plastic blue shopping cart that she rented from the mall.
For less experienced shoppers, like the Carkin sisters, the lines were long enough.
"Target this morning was incredible," Meggan Carkin recalled. "Within a half an hour of the store opening, DVDs, gaming systems, all sorts of electronics were gone."
Fellow costumers did, however, sympathize with Alysha's broken foot.
"The lines are terrible," said Alysha, who attends Wellesley College with her sister.
"But people have been really nice about the wheelchair."
That got Meggan thinking.
"Maybe," she said while guiding the wheelchair past Kay Jewelers, "we'll bring it back next year."